There are many great restaurant options out there, but today we will be focusing on fast food restaurants and the vegan options offered at these establishments and popular chains. So today we're going to help you figure out how to eat vegan at restaurants. 
Move over burgers and chicken sandwiches, make room for the vegan eats.
Did you forget to pack your lunch? Running out of time until you need to pick the kids up? 
This situation can feel like a disaster when you follow a plant based lifestyle. With an overwhelming number of restaurants proudly featuring animal based menus, it may seem like the only option for you is a side salad…again. Bring on the stomach rumbles and hunger headache. Or maybe not?
Despite the lack of advertising, most restaurants and fast food joints do offer plant based options. It just may take a little research to find an appropriate and filling meal.
In the past few years, the plant based movement has reached many more foodservice establishments, making it so much easier to eat vegan at restaurants. From kale salads with actual toppings to the introduction of the plant based burgers, eating vegan at restaurants has never been easier.
While a sit-down or casual dining experience may offer more options for an appropriate plant based meal, sometimes you just don't have the time. When you are in a time crunch and just need to grab a meal quickly, the three main options are fast food, fast casual, and cafe establishments.
Fast Food
These establishments provide quick meals with most customers taking meals to-go via drive-through window or counter. A majority of American fast food chains offer the stereotypical burgers, fries, milkshakes, onion rings, and jumbo sodas. 
One draw for these establishments is the low price point  for an affordable meal. Most customers have no problem grabbing a quick bite at these restaurants, but can prove a challenge for plant based eaters. Don't fret, later on we'll cover the plethora of vegan options at fast food restaurants.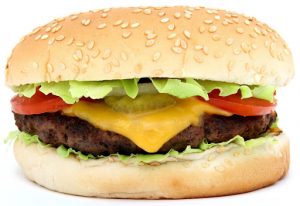 Fast Casual
One step above fast food, fast casual restaurants menus feature more options for customers wanting to make healthy choices. These businesses use higher quality ingredients which correspond with slightly higher prices. However, for the vegan diner, the better variety of accommodating options outweighs the price point. 
This type of restaurant encompasses a wide variety of eats, from wraps and sandwiches to veggie loaded salads and ethnic cuisine and even smoothie bowls and cauliflower pizza. Even with the more health-focused menu, these restaurants still put an emphasis on getting you your food in time to make your one o'clock meeting.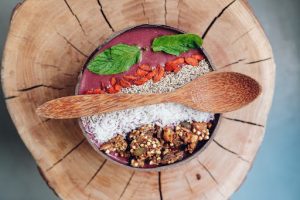 Cafes
These establishments typically conjure images of warm caffeinated beverages and baked goods, not something you immediately think of for a quick meal. However, cafes typically offer lunch menus and smoothies and other smaller snacks as well. 
Typical fare includes sandwiches, small plates, beverages, and packaged snacks- perfect for a light meal. These establishments are a great option when you need a quick lunch and an afternoon oat milk latte.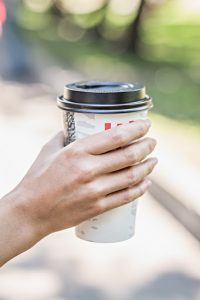 No matter what restaurant style you chose, you can find a yummy vegan meal. Today we are going to zero in on fast food restaurants in particular. We'll delve into menu research, side dishes, modifications, and nutrition of menu selections. 
What are Vegan Options at Restaurants?
After a brief overview, you may still be asking yourself, "What's vegan at fast food restaurants?" 
The first place to check before even entering a restaurant is the online menu. Scoping out a restaurant online will save you a headache from squinting at the nemu and avoid getting grief from the customers behind you in line for taking too long. 
Pull out your phone and Google "vegan restaurants near me" to see if something pops up! If your area doesn't have any grab-and-go vegan places, don't worry. 
While checking out online menus, see if any places have special vegan/vegetarian menus. This will help narrow your search dramatically. Even if all the restaurant offerings are on the same menu, some businesses label vegan/vegetarian items with special icons like 'v' or a leaf. 
Can't find a specialized menu? Check out the side dishes and appetizers. 
Common vegan side dishes include:
Baked potato (hold the butter and sour cream)
Fries (cooked in vegetable oil)
Side salad (no cheese with an appropriate dressing)
Chips and salsa/guac
Rice and beans
Apple slices
Hummus plate
And so much more!
How do I Veganize Fast Food?
Just because they don't advertise a vegan/plant based main dish doesn't mean the menu can't be vegan friendly. Some mixing and matching may get involved, but bring it on! 
Don't forget about modification. Just because something is made with cheese doesn't mean you can't have them remove it. For example, a lot of fast food salads use chicken, cheese and a creamy dressing. However, you can ask for beans, no cheese, and an appropriate dressing to make any salad work. Be careful about croutons though, as these usually contain dairy.
Not in the mood for side dishes or a salad? Try a taco chain, or find a burger joint that carries the Impossible Burger. 
Craving Mexican food? Mexican food is one of the simplest cuisines to make vegan. Taco Bell is especially easy to veganize. Ask for any plant based dish to be made 'fresco style'! This automatically removes the cheese sour cream and sauces and replaces them with pico de gallo. 
Remove the cheese from a bean burrito and load up on salsa! And don't forget a side of chips and guac for some healthy fats.
Looking for a meal you can eat on the go? See if any fast food restaurants in your area carry a vegan patty. You've probably heard of the two most popular plant-based burgers, the Impossible Burger and Beyond Burger. Both are great options when prepared completely vegan! 
Restaurants that carry Impossible Burger or Beyond Burger:
White Castle

Burger King

A&W

Bareburger

BurgerFi

Carl's Jr.

Shake Shack

Dunkin'
These options may cost a little more, but it's totally worth it to remain dedicated to the plant-based lifestyle. Don't believe it? Check out these nutrition facts.
How to Eat Vegan at Taco Bell:
Fresco Bean Burrito
All certified vegan ingredients

330 calories

7 gram fat

11 grams fiber!

11 grams protein
Beef Burrito
Full of cheese and meat

430 calories

19 grams fat

4 grams fiber

12 grams protein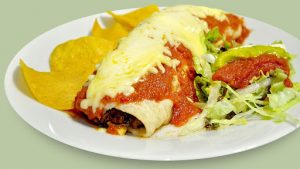 Although the burritos differ by only 100 calories, the fat and fiber differences are crazy! A beef burrito boasts 12 more grams of fat and is almost completely lacking in fiber. This comparison really shows you the power of plant protein; the entrees only differ by one gram of protein! Flex your plant-based muscles.
Your arteries, bowels, and muscles will thank you greatly for choosing the fresco bean burrito option.
The Taco Bell website labels certified vegan ingredients to help you feel even better about your quick lunch decision. They even have a page dedicated to vegan options. 
Vegan options:
Black bean crunchwrap supreme (no cheese sauce or sour cream)

Power menu bowl- veggie (no cheese, sour cream, or avocado ranch sauce)

Cinnamon twists (yum!)

Fresco black bean crunchy or soft tacos

Black beans and rice

Ask for any vegetarian items to be made fresco (instant vegan!)
How to Eat Vegan at Burger King:
Vegan:
Impossible Whopper
470 calories
16 grams fat
25 grams protein
Small French fries 
320 calories
13 grams fat
4 gram protein
Side salad (no cheese)
15 calories
0 grams fat
1 gram protein
Total: 805 calories
29 grams fat
30 grams protein
Carnivore:
Bacon & Cheese Whopper
790 calories
51 grams fat
35 grams protein
Small French Fries
320 calories
13 grams fat
4 gram protein
Side salad (with cheese and ranch dressing)
320 calories
32 grams fat
5 grams protein
Total: 1430 calories
96 grams fat
44 grams protein
Impossible Burger for the win! Burger King was one of the first fast food chains to hop on the vegan burger trend and we're so thankful they did, it makes it so much easier to eat vegan at fast food restaurants. Saving you 320 calories and 35 grams of fat, the Impossible Burger is a better option even aside from the fact that it's vegan. For a bonus, it has a whopping 25 grams of protein to power you through your long day. 
Another saving grace at Burger King is their French fries. Cooked in vegetable oil, they are completely vegan! Bring on the crunchy potato goodness. 
But what about veggies? Don't worry, the Burger King side salad is a great option to get your vitamins in. Don't forget to hold the cheese and swap the ranch dressing. This will keep you plant-based and save you 305 calories and 32 grams of fat. Save your fat for a yummy avocado or cook your dinner with olive oil. 
While a full vegan lunch at Burger King may contain a higher amount of calories than a normal packed lunch, don't feel bad. It saves you 625 calories compared to a meal with meat and dairy.
Power to the plants!
How to Eat Vegan at Starbucks:
Starbucks, the land of liquid energy and the perfect way to start your day. And a vegan friendly way to get your morning (or afternoon) pick-me-up. Ask for any drink to be made with coconut, almond, or soy milk. Don't be surprised if your drink is a little more expensive; substituting for cow's milk comes at an additional charge. 
Drink ingredients to avoid include whipped cream, java chips, protein powder, caramel drizzle, cinnamon dolce topping, pumpkin spice, white mocha, caramel brulee, and chai (tea bags are fine). Don't worry though, the mocha syrup is vegan!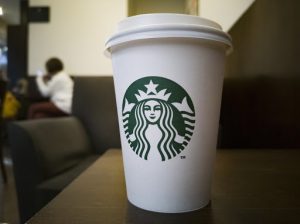 Some popular vegan drink options:
Regular coffee

Iced coffee*

Cafe americano

Latte*

Mocha* (no whipped cream)

Caramel Macchiato* (no caramel drizzle)

Matcha Latte*

Pink Drink

Cold brew with almond milk foam
*with almond, coconut, or soy milk
Vegan food options:
Classic

oatmeal

Hearty blueberry oatmeal

Sprouted grain vegan bagel

Plain/blueberry/cinnamon raisin bagels

Avocado spread

Protein boxes (without cheese or egg options)
Sources: https://chooseveg.com/blog/ordering-drinks-food-vegan-starbucks/
https://www.peta.org/living/food/guide-vegan-starbucks/
How to Eat Vegan at McDonalds:
Caution: Nothing at McDonalds is certifiably vegan. Proceed with caution. While not all menu items contain animal products, there is always risk of cross contamination.
Before you ask, no, the coveted french fries are not vegan since they are cooked with beef flavoring. Don't get too upset, as they have other menu items with no animal ingredients.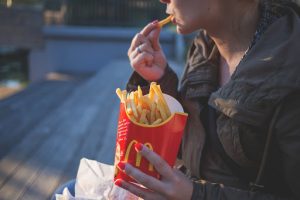 While McDonalds doesn't boast as many vegan items as other fast food chains, it does offer a small selection that can help you get through the day.
Vegan food options:
Fruit and maple oatmeal (no cream)

Plain English muffin

Apple slices

Southwest salad (no chicken or cheese)

Side salad

Apple pie (!!!) 

Sauces: buffalo, BBQ, sweet and sour, ketchup, mustard, maple syrup, balsamic vinaigrette, oil and vinegar, zesty Italian, sesame ginger
Vegan Beverages:
McCafe Coffee (no milk/cream)

Minute Maid Slushie

Juices

Iced tea
Source: https://www.worldofvegan.com/mcdonalds/#:~:text=There%20aren't%20any%20plant,for%20McDonald's%20to%20follow%20suit.
How to Eat Vegan at Dairy Queen:
*Dairy* Queen doesn't sound very vegan friendly.
As it is, compared to other fast food restaurants, Dairy Queen doesn't have as many vegan friendly options, especially in the food department.
However, you can now get your dessert fix with their non-dairy Dilly Bar! Made with coconut ingredients, it's tasty and appropriate for vegan diets. Even if you can't find an appropriate meal, you can at least have dessert!
Vegan Food Options:
Side Salad (with appropriate dressing)

French Fries*

Hash Browns*
Vegan Beverages:
Misty Slush

Light Smoothies

Strawberry Banana, Mango Pineapple, Tripleberry, Pina Colada, Berry-Pom, OrangeBerry, Orange, Strawberry
*Cooked in vegetable oil, but the same oil is used to cook animal products as well.
Source: https://veggl.com/cheat-sheets/vegan-options-dairy-queen/
How to Eat Vegan at Subway:
With a slogan like "Eat Fresh", it seems pretty easy to grab a vegan meal- and it is!
So many of the bread options are vegan and you can load up as many veggies as you want. If you are heading there for breakfast be sure to avoid the croissant and English muffin options as they contain animal products. 
Other more obvious options to avoid are all the meat and cheese sandwich fillings and creamy dressings. 
To help you stay full for longer, add avocado or guacamole to your sandwich and grab some apple slices with it.
Vegan Bread Options:
9-grain

Italian

Hearty Italian

Roasted garlic bread

Sourdough bread

Spinach wrap

Tomato basil wrap

Habanero wrap

Wheat wrap
Vegan Sauces:
Mustard

Oil and Vinegar

Subway vinaigrette

Sweet onion

Fat-free Italian
Bonus:
As many veggies as you want!
Source: https://www.womenshealthmag.com/food/a30644931/subway-vegan-menu/
How to Eat Vegan at Wendy's:
The cute little girl with the red pigtails offers some great vegan eats!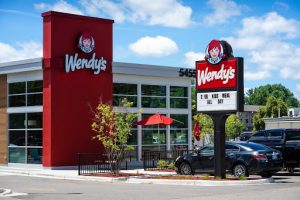 Source: https://pixabay.com/photos/wendy-s-wendy-fast-food-4010578/
Unlike some other fast food chains, Wendy' offers some vegan friendly entrees (with a little modification, as per usual), so you don't have to settle for a side salad.  With some creativity, you'll have a filling, vegan lunch in no time.
Vegan Food Options:
Fries (may have cross contamination)

Baked potato with chives (no butter, sour cream, or cheese)

Apple slices

Side salad (no croutons)

Asian cashew salad (no chicken)

Strawberry mango salad (no chicken, cheese, or sunflower seeds)

Apple pecan salad (no chicken, blue cheese, or pecans)

Power Mediterranean salad (no chicken or cheese)

Veggie sandwich (bun with lettuce, tomato, onion, and pickles)

Pro tip: stuff in some fries for a more filling sandwich!
Source: https://www.peta2.com/vegan-life/wendys-vegan-options/
How to Eat Vegan at Dunkin' Donuts:
You may not be able to dunk a cookie (or a basketball), but you sure can have some Dunkin' coffee! 
Dunkin's blog explains their vegan options and is here to help you find something to eat and drink.
While Dunkin' doesn't offer as many vegan milks as Starbucks, you can get any coffee beverage made with almond milk and some locations also offer oat milk.
Besides their delicious coffee, they also offer a few vegan friendly breakfast food options. 
Vegan food options:
Bagel

Cinnamon raisin

Plain

Everything

Sesame 

English muffin

Hash browns

Oatmeal
Vegan beverages:
Espresso

Hot or iced coffee

Latte*

Macchiato*

Mocha Swirl

Americano

Cold brew

Iced and hot plain tea

Coolatta (strawberry and blueberry)
*with almond milk
Vegan Flavor Shots:
Vanilla

Hazelnut

Toasted almond

Blueberry

Raspberry

Coconut
Source: https://news.dunkindonuts.com/blog/vegan-menu-dunkin
How to Eat Vegan at Pizza Hut:
Even without the cheese, vegans can still find some great pie options at Pizza Hut. 
With a few crust and sauce options, and endless veggie topping combinations, your pizza craving can be satisfied with one phone call. And just wait until you try the Salted Pretzel crust flavoring…*mind blown*.
Are you wanting a three course meal with an appetizer and dessert? No worries, Pizza Hut has you covered. With some modifications, breadsticks and cinnamon sticks are yours for the taking. Bring on the carbs.
Vegan crust options:
Thin 'N Crispy

Hand Tossed
Vegan sauce options:
Vegan toppings:
Vegan goodies:
Breadsticks (no parmesan or seasoning)

Fries

Cinnamon sticks (!!!) (to be safe, ask for no icing)
Source: https://www.peta2.com/vegan-life/pizza-hut-vegan-options/
How to Eat Vegan at Domino's:
Don't have the time to make that homemade pizza you've been craving? Dominos is here to save the day.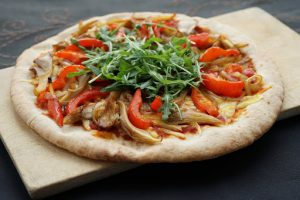 With so many build-your-own options, pizza, pasta, and sandwiches are all yours. Have no fear, the thin crust and gluten free pizza dough, sandwich bread, and penne noodles are vegan and from there the possibilities are endless. 
With the ability to personalize your meal online, you can add toppings and delete animal ingredients easily. Just remember to ask for no cheese.
To make things easier, Domino's has an allergen info page, showing you which ingredients contain dairy. Just remember to steer clear of the meat options. Mix and match to your heart's content!
Vegan Base Options:
Thin crust pizza

Gluten free pizza crust

Penne pasta

Sandwich bread
Vegan Sauce Options:
Pizza sauce

NOT the marinara sauce (contains milk)

Garlic dipping sauce

BBQ sauce

Mango habanero sauce
Vegan Add-ons:
Butter flavored oil

Cinnamon sugar shake-on

Cornmeal

Creole seasoning

Crushed red pepper

Garlic and herb shake-on

Oregano blend shake-on
Sources:
https://veggl.com/cheat-sheets/vegan-options-dominos-pizza/
https://www.dominos.com/en/pages/content/nutritional/allergen-info
Final Thoughts
See, it's not so hard to eat vegan at fast food restaurants. Next time you forget your lunch or need a quick dinner, don't fret. 
Vegan Tips and Tricks:
Check out local restaurant menus and browse for vegan options. 

Don't forget to check the side dishes to mix and match. 

Modification is the name of the game- remove cheese, change sauces, add veggies!
If you want to make sure your meal is completely vegan, don't be afraid to call ahead. Be cordial and the restaurant employee will be too. Not only that, the nicer you are, the more strings they will pull for you to get the meal you want (and need to ward off the hanger). 
If you are really in a time crunch, you are going to have to be willing to be flexible and work with what options are available. It might be a veggie sandwich with no sauce, baked potato, or plain black bean taco, but something is better than nothing. Not every meal is going to be a perfectly balanced plate and that's okay!
It's also important to be flexible with the restaurant. They may cook everything on the same grill and are unable or unwilling to clean it just for you. There is no use getting upset, just ask them if there is anything they can do to accommodate you. 
Bottom line is it's not about perfection- that would certainly be boring. The goal should be continual progress and effort. If you forget to remove the cheese from your salad or your sandwich was prepared on the same grill as a hamburger, it's not the end of the world. Accept that it happened, move forward, and keep making progress on your plant-based journey!