Lunch On A Plant-Based Diet: It's About To Get Interesting
If you are trying to figure out what you can have for lunch on a plant-based diet… you've come to the right place! We are so happy you're looking for some plant-based lunch options, or maybe even considering this diet as a lifestyle. Whatever it is, we're here for you. 
Once you learn a few of the recipes we will share with you on this super-detailed guide, you will be amazed to find out all the rich flavors, colors, and textures that can be part of your everyday meals. These meals are packed with nutrients that can improve your digestion, your energy throughout the day, and well, even your cholesterol levels.
So get ready to feel and see amazing health impacts on your body by including in your routine some of the healthy plant-based lunch recipes we are going to show you today.  
But before we get to the recipes, we want you to understand the most important things to consider when you think about lunch on a plant-based diet. Knowledge is everything!
Healthy Does Not Mean Boring 
We can all agree that a healthy diet only works for us in the long run if it makes us happy, right? Food needs to be good for us. So of course, flavor plays a big role since it has an important effect on our satiation (and happiness!). 
The good news? There's no better way to combine health and pleasure than with a plant-based diet. 
We want to show you that it is not only possible but easy to have a delicious meal for lunch on a plant-based diet every day. I mean… no one wants to eat boring salads all the time, and that's definitely not what plant-based or healthy is either about. 
Usually when people think about healthy plant-based lunch recipes, they don't really see just how many great, yummy and easy options there are out there. 
But that's exactly why we are here to help you. 
It's All About Creativity
In this post, you will learn how to get creative with your meals. 
You will understand what you can and need to eat for lunch on a plant-based diet so you can easily prepare a great meal with just a few simple and healthy ingredients. 
In addition to that, you will also learn some awesome tricks that you can replicate in many different recipes, such as how to make extra-crunchy veggies and creamy sauces that can go on everything! 
Ok, So What Can I Eat for L
unch On A Plant-Based Diet
?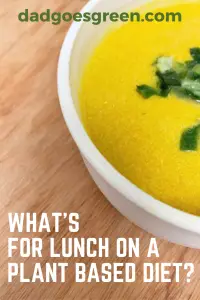 The most important thing about a balanced meal is meeting your macronutrients. What does that mean? It means that you always need to have a nice source of carbs, protein, and fat on all your main meals. And that includes lunch, of course!
We will give you some great recipes to cover all the important macronutrients and also give you a whole bunch of micronutrients that are great for you too.
Although some people might think that reaching their daily protein intake can be harder on a plant-based diet, this is a common misunderstanding. 
It simply isn't true!
Where Do You Get Your Protein?
Some people may be surprised to find out how it's actually quite easy to meet their ideal daily protein intake on a plant-based diet. Researchers have proven this many times. 
According to the U.S. National Institutes of Health's National Library of Medicine, there is no evidence of protein or amino acid deficiency in vegetarian populations in western countries. 
Ok, now that we got this out of the way… what are the main sources of protein on a plant-based diet? To answer it shortly: beans! We're talking about all kinds of beans here. Chickpea, lentil, black beans, peas, white beans… you name it. You will also find tons of protein on foods like tofu and tempeh. 
These are easily what you can call your "main sources". 
However, you will also find a good amount of protein in seeds (such as chia and sesame), nuts (like almond or peanuts), and even in some more "regular" foods such as pasta. Yes, pasta… you read that right. Of course, it's essentially a carbohydrate source, but it does come with protein too and we just wanted to clarify that it's actually hard not to eat enough protein, as you can see. 
All that being said, as long as you make sure you incorporate a variety of whole foods, nuts, seeds, legumes, beans, and grains into your routine, you're good to go! 
We will share some plant-based high protein lunch options on this post to get you covered, so keep scrolling.
Time to cook!
There are so many great options for a healthy plant-based lunch out there that it honestly took us a while to decide which ones to share! 
We wanted something simple and delicious so this could easily be an option for your day, as you may be looking for a plant-based lunch for work (as so many of us are during our busy routines).
This post contains 10 different plant-based lunch recipes and we are confident that you will get inspired to cook after reading this. Also, we're pretty sure that at least one of them will become your new favorite, go-to recipe. 
All these recipes are very healthy, very satisfying, full of flavors and packed with proteins, awesome carbs, and good fats too. 
10 Great Plant-Based Lunch Recipes: 
1. Tofu Scramble with Mushrooms
Cooking tofu is one of the easiest and healthiest ways to throw a great plant-based high protein lunch. In this particular recipe, we are going to use extra-rm tofu and season it with an amazing sauce. You can easily double the recipe for this sauce and keep in the fridge for the week too if you want. 
Ingredients 
For Sauce-
1/3 C Peanut butter (or any nut butter) 
1/4 C Water/Veggie Broth 
4 Tbsp Soy sauce 
4 Tbsp  Rice vinegar (or lime juice, or apple cider vinegar) 
4 Tbsp Sesame oil 
Optional:
1 Tbsp Hot sauce (I recommend Sriracha) 
2 Tbsp Agave Syrup (or sugar) 
For Scramble-
1 C Sliced mushrooms (White, Brown or Portobello)
1 Red onion 
1 Tbsp Minced garlic
6 oz. Extra-firm tofu 
Instructions: 
Add the peanut butter and the water to a bowl. Whisk it with a fork until the peanut butter is nicely diluted. Add all the other sauce ingredients to the bowl and mix it well. 

In another bowl, use a fork to crumble tofu into little pieces. 

Chop the onions and add them to the tofu bowl. 

Slice the mushrooms into large pieces and set it aside. 

Add water to the skillet and let it heat for 1 minute. 

Add the tofu and onions and spread it evenly. Cook for 5 min.

Add the mushrooms and 1/2 a cup of the sauce to the skillet, making sure it's evenly distributed. Give it a good stir and let it cook again for 10-15 minutes, largely undisturbed. Stir occasionally until brown and crispy. 

Add a bit more sauce to it before serving, to taste, and enjoy! 
2. The Best Veggie Sandwich
For those of you who read this blog often, you probably know I love this sandwich recipe. It's a really easy, delicious and on-the-go recipe that you can put together anytime – even on super busy days since it will probably take you 5-10 minutes to get it done.
It's also a really nice option for warmer days because it's very refreshing and light (but hey, very filling too, of course). 
I have a whole post about it and a video making it here if you haven't checked that out, but I'll give you the full recipe, as well. But, as I've said before, the beauty of this dish is that you can use whatever you want to. This is how I love to make it: 
Ingredients: 
2 Slices Whole Wheat Bread (Ezekiel or Dave's Killer Bread pref)
1/4 C Mushrooms (thinly sliced) 
1/4 Red Bell Pepper (thinly sliced) 
1/2 Avocado (cut into thin slices) 
4 Tbsp Hummus (I like Sabra Roasted Garlic Hummus) 
1 Handful of Arugula 
Instructions: 
Perfectly Toast the Bread

Spread 2 Tbsp of hummus onto each slice. 

Build layers with all ingredients, leaving the arugula for last

Serve it with a little bit of salt, pepper, and… that's it! 
OPTIONAL: Play around with this recipe and try it with sliced cucumber, shredded carrots, and sliced tomato, as well. You can even sprinkle your favorite nuts and seeds, like sunflower seeds on the hummus to add extra protein and healthy fats; they are extra filling, too. Enjoy!
3. Savory Chickpea Curry
If you love warm comfort food, this will become one of your favorite plant-based lunch recipes. It's perfect for colder days, it's full of spices (if you want them all, of course!) and it also has a nice creamy texture. What sounds better than that? 
Ingredients: 
1 Can Canned Chickpeas (or 2 C) 
2 Tbsp Olive oil 
1 Chopped onion 
1 Tbsp Ground Curry 
1 tsp red pepper flakes 
1 cup of coconut milk 
2 C of water 
1 handful of chopped cilantro 
1 Tbsp salt (or a bit more) 
2 Tbsp lime juice 
Instructions:
On a large pot over medium heat, add olive oil, onion, curry, paprika, and red pepper flakes. 

Once the onions are nicely cooked, add chickpeas, salt, and water. Let it cook for around 10 minutes. 

Add the coconut milk and almost all of the chopped cilantro (save a little for serving). Give it a good stir and let it cook for another 5 minutes. Turn the heat on. 

Add the lime juice and what's left of the cilantro. 

You may serve it with rice or as a soup. Enjoy! 

Lentil Quinoa Salad
4. Lentil Quinoa Salad
"Can I eat salads for lunch on a plant-based diet?" Well, of course! This salad is one of the healthiest plant based recipes for lunch out there. It is proof that salads can not only taste amazing but be a very nutritional fulfilling meal. It's got good carbs, lots of protein, good fats and tons of fiber. 
You don't have to follow this exactly as I say, you can just add a couple more things you love or switch whatever you want! 
It's a great option to prep ahead of time so you can have most ingredients ready-to-go on the fridge and easily put this awesome plant-based lunch together whenever you feel like! 
Ingredients:
For Salad-
1 C Cooked lentils 
1 C Cooked quinoa 
1 C Spinach, chopped 
1 C Lettuce, chopped 
1 Red cabbage, chopped 
1/2 Red onion, thinly sliced 
1 Avocado, chopped 
1/4 C Pumpkin seeds (aka Pepitas)
For Dressing-
4 Tbsp olive oil
2 Tbsp lemon juice 
1 Tbsp soy sauce 
1 Tbsp Dijon mustard 
2 Tbsp agave (or sugar) 
Instructions:
Mix all dressing ingredients in a bowl. Give it a taste and make sure you adjust it according to your taste! 

In a larger bowl, add all salad ingredients together and toss to combine. Once that's done, throw the sauce in the mix and toss it all again. That's all! 
5. Summer Quinoa Salad
Since quinoa is such an awesome protein source for plant-based lunch recipes, here's another one with it! I've talked about this recipe before on the blog since it's a very light, very tasty plant-based lunch option. Also, it can't get easier than that, so no wonder it's one of my favorites. You can also check out the video HERE! 
I hope you enjoy it as much as I do. 
Ingredients:
2 C Kale, chopped 
1 Red Bell Pepper Diced 
1 Cucumber Diced
1 Carrot, Diced or shredded 
1 Can Yellow Sweet Corn Drained 
2 Tbsp Apple Cider Vinegar 
1 Tbsp Extra Virgin Olive Oil (Optional)
1/4 tsp Kosher Salt 
1/4 tsp Pepper 
1/4 tsp Dried Oregano 
1/4 tsp Dried Basil 
1/4 tsp Powdered Onion 
Instructions 
Pro-tip: massage all kale leaves with a little bit of salt until they get darker. It makes them taste even better! 

Once that's done, add all ingredients to a mixing bowl and stir to combine. Enjoy!
6. Spicy Broccoli and Noodles in Peanut Sauce
You see, the variety of what you can have for lunch on a plant-based diet is huge. And that's why pasta can be a healthy plant-based high protein lunch too! Yep, that's right. This recipe is the best. It's got this creamy spicy peanut butter sauce and the perfect crispy broccoli. If that's not mouth-watering, I don't know what is. 
Ingredients:
2 C Fresh broccoli 
1 C Uncooked pasta (any pasta you want!) 
2 Tbsp Water 
For Sauce- 
1/4 C Peanut butter (no sugar added!) 
2 Tbsp Soy sauce 
2 Tbsp Sesame oil 
2 Tbsp Rice or apple vinegar 
1 Tbsp Maple syrup (or agave syrup/sugar) 
4 Tbsp Water 
1 tsp Sriracha sauce (or more if you love spicy food!) 
Instructions:
In a medium pot, cook the pasta until al-dente. 

While pasta is cooking, get all sauce ingredients in a bowl and whisk it with a fork. 

Bring a large skillet to medium to high heat and add Water and broccoli. Stir it up and let it cook for around 10 minutes, tossing it once in a while so all broccoli sides get brown and crispy. 

Once pasta and broccoli are both cooked, mix them up, and add the sauce. Give it a good stir and enjoy! 
7. Fried Rice with Crispy Tofu
Tofu is the most versatile plant-based protein source. This recipe only contains 5 ingredients and it's so full of flavor and texture you won't get enough of it. It's very quick to make. Leftover rice works best for this dish and tends to hold it's form better than freshly made. That way, you'll always have a delicious plant-based lunch option for busy days. Here it is… 
Ingredients: 
1 C Rice, cooked (leftover preferred) 
12 Oz. Extra-firm tofu 
1 large Onion, thinly sliced 
1/4 C Sesame seeds 
5 Tbsp Water 
Instructions: 
Cook rice according to instructions and set it aside, or use pre-cooked for best results.

  2. In a bowl, mash the tofu into little pieces with a fork and set it aside as well. 

Bring a large skillet to medium heat and add Water and onion slices to it. Let it cook for at least 5 minutes, until they look darker. 

Add mashed tofu to hot skillet and let brown, mostly undisturbed, for another 15 minutes. Stir occasionally.

Add cooked rice and stir to combine and reheat thoroughly. 

Serve it with sesame seeds. 
8. Creamy Tofu and Pumpkin Soup
Ok, since we already have so many healthy plant-based lunch ideas in this post, I think a soup recipe couldn't stay out of it, so voilà: here's a creamy and delicious soup that works perfectly as a plant-based lunch option. I learned this one from here. I did change a thing here and there but, as you can see, it's still quite simple. 
It really tastes amazing and I hope you will give it a try! 
Ingredients: 
4 C Water 
1 Onion, chopped 
2 Tbsp Minced garlic (or 1tbsp garlic powder) 
2 Tbsp Water (for saute)
5 C Pumpkin, peeled, chopped coarsely 
2 tsp Grated fresh ginger 
6 ounces Soft tofu, cut into medium pieces 
1 Tbsp Finely chopped fresh chive 
Instructions: 
Combine olive oil, garlic and chopped onions in a large pan and stir it for about 5 minutes. 

Add pumpkin, water and ginger and bring to a boil. Reduce to medium heat and let it cook for about 15 minutes, or until the pumpkin is soft. 

Add tofu to the pan and blend all until smooth and combined. 

Cook for another 10 more minutes. 

Serve it with fresh chives on top. 
9. One-Pot Pasta Primavera
Any meal that won't make you wash tons of dishes afterward is pretty good already, right? This one-pot pasta is exactly that. It's a super easy, delicious plant-based lunch option for busy days since you basically just need to let it all cook and come back when it's ready to serve. 
Ingredients: 
2 Tbsp Olive oil 
1 large Onion, chopped 
3 Tbsp Minced garlic 
4 Tomatoes, chopped (or 1 cup cherry tomatoes) 
1 Tbsp Oregano
1 C Pasta of your choice 
3 C Water 
1 C Broccoli florets 
Instructions: 
Join all ingredients in a large pan (yes, including uncooked pasta). 

Pour water and make sure it's enough to cover it all. Bring it to high heat until water starts to boil. 

Then let it simmer in medium heat for as long as pasta is required to cook. Once it's done, almost all water should be gone. Enjoy. 
10. Roasted Cauliflower and Chickpeas with Tahini Dressing
If you ever thought that some vegetables are just "boring"… try roasting them! Roasted veggies are super yummy and versatile. And if you just go ahead and add chickpea to the baking sheet, there you go… you have everything you need for lunch on a plant-based diet. 
The crispy veggies go perfect with this tahini dressing. You may become addicted to this recipe. Just saying. 
Ingredients: 
1 Can Chickpeas, drained (or 2 C) 
1 Head cauliflower
2 Tbsp Olive oil 
1 tsp Salt 
1 tsp Smoked paprika 
1 tsp  Ground Cumin 
For Dressing-
1/4 C Tahini 
1/3 C Water 
1/4 C Lemon juice 
2 Cloves Garlic, minced
1/4 tsp Salt 
Instructions: 
Preheat the oven to 400ºF. Add all sauce ingredients to a bowl and blend it together. 

Chop the cauliflower into medium size florets. 

Place chopped cauliflower and drained chickpeas on a large baking sheet and combine them both with salt, all spices and olive oil. Roast them for about 25 minutes in medium heat, then stir and roast for another 10 minutes until it all looks crispy. 

Serve it with tahini dressing.
That's a wrap!
Wow, I hope you're craving as much food as I am right now.  That got me hungry. These are some of the most delicious healthy plant-based lunch recipes ever, right? On that note, make sure you see all these recipes sort of as guides to try to do your own thing. We wanted to show you all the awesome ingredients you need for a perfect lunch on a plant-based diet. But you certainly don't need to follow any recipe exactly as it is displayed. 
Just try to give them your personal touch and have fun with it! If something doesn't come out as expected, just give it some time and try again another day.  
You'll understand what works for you in the process, trust me.
Some pro-tips to sum it up…
If  you want your plant-based lunch to be even healthier… always include a vitamin-C rich fruit with it because  they help you better absorb some nutrients, such as iron. You can squeeze some lemon before serving a meal or maybe  have a piece of fruit for dessert!

 Another pro-tip is to get some stuff done ahead of time because that really helps in a busy routine. Maybe pick one day of the week as "prep day" to do that so you'll always have a nice plant-based lunch option on-the-go.
… And a quick reminder!
So with all that being said, I just wanted to give you a quick reminder that all you need for a perfectly balanced plant-based lunch is to mix good sources of carbs, protein, good fats, and a whole bunch of veggies!
Thank you for reading along! 
So happy you're considering a plant-based diet and visiting the blog for inspiration. We're constantly updating so make sure you come back from time to time. 😉
Now go have some fun and show everyone your Plant-Based Skills!  
You may also like: WHAT CAN YOU EAT FOR BREAKFAST ON A PLANT-BASED DIET? >>CLICK HERE!