Best Plant-based Options at Blaze Pizza
There aren't that many people who don't like pizza. But when you're going wholly plant-based, you can't really enjoy any pizza that comes your way. Thankfully, many pizza chains are now more vegan-friendly than ever before. So in this post, we'll list the best plant-based options at Blaze Pizza.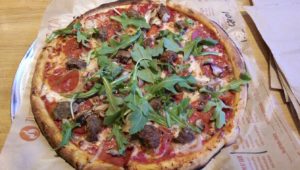 If you're in the US, you're probably familiar with Blaze Pizza. Even if you're not, it's one of the best places to get plant-based pizza. Nevertheless, if you know your options, ordering vegan can be super easy and fast. Besides, this chain is a little different from your other mainstream franchises. 
A Little About Blaze Pizza
Blaze Pizza is essentially a 'make your own' pizza chain. This casual fast pizza eatery can get your order ready in under three minutes. Not bad, right?
It works in a similar fashion as Chipotle. You start from one end, beginning with the crust, and move in the queue ahead, building your pizza as you like along the way. In the end, they have a gas-fired pizza oven ready to heat your pizza, similar to wood-fired ovens. 
This concept, when Blaze Pizza was first launched in Pasadena, California, back in 2011, was quite novel. So naturally, the restaurants had a lot of success which meant expansion. Now, there are hundreds of locations across the country, as well as in Canada. 
In fact, Blaze Pizza is also popular in the Middle East now, with locations in Kuwait, Saudi Arabia, Bahrain, and the UAE. 
Another great thing about this chain is that it offers plenty of options to choose from, including many healthy plant-based ones. Therefore, if you're always after grabbing a relatively healthier slice of pizza, Blaze Pizza is the place for you. 
Best Plant-based Options at Blaze Pizza
While the unique selling point or USP of this restaurant chain is designing your own pizza, it does offer pre-made pizza options as well. Of the options that are there in their menu as their signature pizzas, only one is truly vegan, which was launched in 2019. 
Part of the Life Mode pizza collection, the Vegan Pizza has red sauce, red onions, bell peppers, mushrooms, vegan chorizo, olive oil, vegan cheese, and basil on top of the classic dough. If making your own pizza is a bit confusing for you, or you're simply in a hurry, this is the best plant-based option at Blaze Pizza. 
Aside from the Vegan Pizza, there's another plant-based pizza called Veg Out, which can be made fully vegan. It typically has dairy-based cheese, which you can swap out for vegan cheese. Just let the person at the counter know you want it vegan. 
Other ingredients in the Veg Out pizza include red sauce, red onions, mushrooms, and roasted butternut squash. 
How to Order Vegan at Blaze Pizza?
You won't really appreciate the brilliant concept that Blaze Pizza is until you take the traditional route and make your own pizza. That can be a little tricky for a vegan because you have to watch out for non-vegan ingredients. However, when you're literally selecting each layer and ingredient, you can't really go wrong. 
Nevertheless, to help you out, here are all the vegan options for each step of making a delicious pizza on your own. 
Crust
Obviously, the very first step is to pick your crust. There are five crust options to choose from, of which three are vegan. Classic Crust, High Rise Crust, and Gluten-free Crust are vegan. 
Cauliflower crust, which you would assume is vegan, is actually not vegan. Similarly, the keto crust is also not vegan as it contains milk and egg. 
Sauce
Believe it or not, the sauce is perhaps the most underrated element in a pizza. A good sauce can really elevate the pizza and give it some beautiful flavors.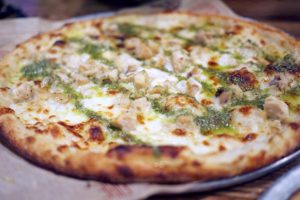 There are several sauce options at Blaze Pizza, including red sauce, hot red sauce, garlic pesto, and white cream sauce. 
Only the red sauce and hot red sauce are vegan, as they contain no animal-based ingredient. Garlic pesto and white cream sauces contain dairy, so they are not right for vegans, as well as anyone who is lactose intolerant. 
As you can probably guess, the hot red sauce is a bit spicy, so if you don't like spicy food, stick to the regular red sauce. 
Meat (Vegan Meat)
Blaze pizza is vegan-friendly but not entirely vegan, which means it offers a selection of meat to choose from. Thankfully, plant-based eaters don't have to skip this step entirely and eat a veggie pizza. You can choose to include their vegan chorizo. It has a sausage-like texture and is made with soy-based protein. 
This means if you have a soy allergy, you will have to avoid even the vegan meat alternative here. 
This plant-based chorizo is made in-house, so they don't really source this particular ingredient from any of the popular meatless companies. This goes to show that they really are going the extra mile to cater to those who just eat plant-based food. 
By the way, even if you're not vegan, do give this option a try, you won't regret it. 
Cheese
Aside from the dairy-based cheese options, they also offer one non-dairy cheese, which they simply call vegan cheese. This is just Daiya vegan cheese shreds, so they don't really make their own or use nutritional yeast. 
Again, this is also a suitable option for those who are lactose-intolerant. 
Toppings
This is the most fun part, as you can experiment as much as you want. You can choose one or two toppings, or go crazy with six or seven. Also, at this section of creating your perfect pizza, you won't have to worry about non-vegan stuff so much.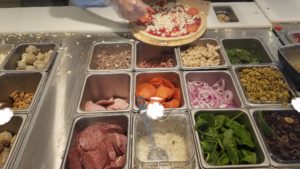 You can add the following toppings:
Red onions

Sautéed onions

Green bell peppers

Red peppers

Roasted garlic

Chopped garlic

Banana peppers

Kalamata olives

Black olives

Mushrooms

Basil

Spinach

Zucchini

Pineapple (unless you're the

president of Iceland

)
Finishes
Once your pizza comes out piping hot out of the oven, you can finish it with some delicious finishers. Of all the finishing options, only two are non-vegan: pesto and ranch. The vegan choices include:
Arugula

Balsamic glaze

BBQ sauce

Buffalo sauce

Olive oil drizzle

Oregano 

Sea salt
Salads at Blaze Pizza
As you can see, this particular pizza chain is incredibly vegan-friendly, with lots of plant-based ingredients along the way. However, they also have salad options that can be made vegan if you like. 
The salads on the menu are:
Classic Ceasar

Tomato and Mozarella 

Arugula and Fresh Fruit

Fresh Berry Salad
You can ask them to make your salad vegan by excluding non-vegan ingredients, which aren't that many, to begin with. If you go with Tomato and Mozarella, simply replace mozzarella with vegan cheese. For the dressing, you can go with the balsamic vinaigrette. 
Desserts and Drinks at Blaze Pizza
If you're craving something sweet after your delicious plant-based pizza, unfortunately, the desserts at Blaze Pizza aren't vegan. They do contain dairy and eggs. 
However, you can enjoy a refreshing drink from the many vegan-friendly drink options, including soda. 
What is the Vegan Cheese at Blaze Pizza?
Blaze Pizza uses Daiya's Dairy-free Shreds to top its pizza. There's plenty of variety by this brand as they have both Mozarella and Cheddar-style shreds. Daiya is one of the best alternative choose options in the plant-based world, offering allergen-free products, made using the best of ingredients. 
Cheese is perhaps the most important part of a pizza for a lot of us. And these shreds are very much like the real deal, which ends up making Blaze Pizza so delicious without the potential side effects of dairy-based cheese. 
Cheese can be highly addictive, which is why even non-vegans should give the Daiya cheese at Blaze a try. It melts beautifully when heated, helping bind all the other ingredients like the sauce and the toppings. 
Blaze Pizza Alternatives
So are there are any other major pizza retailers offering plant-based pizzas? With vegan numbers growing by leaps and bounds, most food chains are realizing the potential of the vegan market. More good news for us!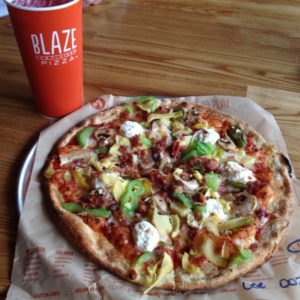 Several major pizza chains have also gotten on the action. Although they haven't fully embraced the plant-based lifestyle, they are offering decent options for vegans to step into their restaurants without qualms. 
Here are some alternatives to Blaze Pizza you can try:
Pizza Hut
Pizza Hut is truly a global pizza franchise, which means catering to different clientele is really in its business model. Here at home, Pizza Hut offers Beyond Meat Italian Sausage Crumbles as the vegan meat option.
Unlike Blaze Pizza, they have yet to introduce a vegan cheese option, but until then you can go cheese-free and enjoy a vegan pizza. 
Toppers Pizza
Of all the big chain pizzerias, Toppers Pizza is perhaps the most vegan-friendly, with loads of vegan options in both its pizza menu and the ingredients. The Vegan Tuscano Topper, Vegan Korean BBQ Chicken-less Topper, and Vegan Buffalo Chicken-less Topper are the best pizzas to try out. 
Their thin Tall Boy crusts are also vegan. So just choose that and pick whatever toppings tickle your fancy. 
Sarpino's Pizzeria
Sarpino's is mainly present in the Midwest and some southeastern states. They do have vegan menus at select locations, so if you're heading there, do ask them if they have a vegan menu. The Florida locations overwhelmingly have plenty of plant-based varieties of pizza. 
They also use Daiya's cheese shreds and Beyond Meat products to top their vegan pizzas. What's more, you may also find vegan cheesy bread and garlic bread in certain locations. 
PizzaRev
PizzaRev's original crust and gluten-free crust are vegan. You can top that with their vegan sausage and vegan cheese to get yourself that plant-based pizza fix. 
Although the pandemic has forced the chain to close many of its locations, it still has plenty of restaurants, including two in Los Angeles, California. 
Mellow Mushroom
If you love Tofu or Tempeh on your pizza, you wouldn't find many mainstream pizza chains offering this age-old plant-based protein. However, Mellow Mushroom is an exception. You can top your pizza with either of these vegan protein options and of course, lots of veggies. 
Wrap Up
Blaze Pizza is hands down one of the best pizza places in the country. The idea they have pioneered really lets you enjoy your pizza the way that you like it. 
And now that you know the best plant-based options at Blaze Pizza, the next time you visit, you'll be even better at crafting a delicious, artisan pizza. Try different combinations every time you visit to find the pizza that really tantalizes your taste buds.