When you decide to go plant-based, one of the obvious things you have to give up is meat. That does not mean you cannot enjoy recipes with meat, as you can always use plant-based meat alternatives. But what is the healthiest plant-based meat?
According to the Good Food Institute (GFI), the sale of vegan meat in the US grew by 19% in 2019. This sector amounted to $939 million, while the overall plant-based retail market stood at $5 billion. In fact, in recent months, the sales of alternative meat doubled during the coronavirus pandemic. 
The demand for healthy plant-based meat is increasing rapidly. More and more plant-based meat companies are popping up on the scene. All of this can sometimes be overwhelming, as you don't know which products are worth buying. 
What is Plant-based Meat Made Out of?
Every plant-based meat has different ingredients. However, almost all of them are made from protein extracted from plants. For instance, the protein from peas is a common source in many alternate meat brands.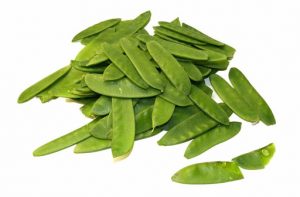 The usual ingredients in plant-based meat products are pulses, root vegetables, cereal grains, lentils, and oilseed proteins. It's important to look at the ingredients to ensure that you don't eat something you're allergic to. 
Moreover, the meat texture of these products also comes from a variety of ingredients. While vegetables are usually crunchy, meat has a chewy texture. However, the companies have mastered ways to give plant-based meat a similar chewy texture. It's usually high moisture extrusion technology that gives these products the meaty, chewy texture. 
Is Plant-based Meat Good For You?
Meat is quite a controversial food group, but vegan meat is no less. There has been a lot of debate over the years about meat alternatives. So is plant-based meat healthy?
Generally, the amount of protein in meat and plant-based meat is comparable. So the debate is not really about the protein itself. It's actually the other nutrients and components that raise this question. 
Meat that's least processed is rich in protein and nutritionally great. However, there are other factors to take into account. To better understand whether plant-based meat is good, you should compare it with the real thing. 
Plant-based Meat vs. Meat
There are pros and cons to everything, and that's perhaps also the case with meat and plant-based meat. Many people switch to plant-based meat because they are following a vegetarian diet. However, many people are stepping away from meat because of its environmental impact.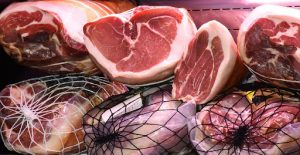 Meat is Bad for the Planet
There has been a lot of research around this, proving that meat, particularly beef, is bad for the climate and the planet. A British study found that a meat-rich diet contributes 7.2 kg of carbon dioxide emissions. In comparison, a vegan diet caused only 2.9 kg of carbon dioxide emissions. 
Another major reason why meat, but more importantly, beef is bad for the environment is land usage. According to Global Agriculture, cattle farming amounts to two-thirds of all farmlands in the world. Moreover, the increase in cattle farming is causing deforestation at an alarming rate. 
Livestock also releases a lot of methane in the environment. This gas is more toxic than carbon dioxide and results in temperature increases. Plant-based meats can help reduce the overall emissions of both the gases, simply by reducing the livestock and the land and water they use. 
Plant-based Meat has Less Fat and Cholesterol
Red meat, in general, has a lot of bad fats and can increase cholesterol levels. Not all fats are bad, but some unsaturated fats in meat can have a negative impact on your health. These are all the more prominent in processed meats. 
Many studies have even found links between red meat and cancer. For instance, this study found that the risk of prostate cancer in men who regularly eat red meat (very well-done) was 1.2-fold. 
This is one area where plant-based meat is a clear winner. With often zero saturated fats and cholesterol, these meat alternatives pose no threat to your heart health. 
Plant-based Meat is Highly Processed
On the other side of the spectrum, one can argue that plant-based meat, unlike real meat, is highly processed. This is true for most meat-free meat products. They don't always use whole foods and go through a lot of processing that might compromise on some nutrients from the plant sources. 
Companies are trying to solve this problem, usually by enriching these products with the necessary nutrients. 
Best Plant-based Meat Products
What is the healthiest plant-based meat? Now you have whole aisles in stores dedicated to plant-based meat. Nevertheless, you have to be wary of what you buy. Some products may be healthier and less processed than others.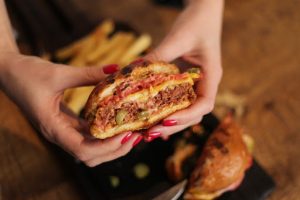 Here are some of the best plant-based meat products from some of the most reliable brands:
1. Beyond Meat Beyond Sausage
Beyond Meat is one of the leading companies in the vegan meat sector. You can find all their range of products at Whole Foods. Beyond Sausage is a great alternative to regular sausages. 
In terms of taste and texture, these are the best vegan sausages out there. These have 38% less saturated fats than regular pork sausages. You get 16g of protein in each serving.
Moreover, these are soy-free and gluten-free, so basically everyone can eat them. Those who follow Kosher dietary principles can also enjoy these sausages. 
2. Gardein Golden Fishless Fillet
Gardein can be credited with making plant-based meat taste and feel like real meat. It's one of the oldest alternative companies that changed the public's attitude towards such products. Before that, most vegan meats were basically mushy veggies.
Their products, like the Golden Fishless Fillet, have a crispy golden texture, much like the real thing. For those who are a big fan of fish and chips, these fillets will keep you satiated. 
These are also rich in omega-3s and have no cholesterol. You get 9g protein and 180 calories with each serving of Gardein Golden Fishless Fillet. 
3. Beyond Meat Beyond Burger
The Beyond Burger sort of has a cult following. People simply love these patties. You can find them in vegan restaurants too. 
These burgers provide a whopping 20g of protein per serving, all of which mainly comes from peas. Like most Beyond Meat products, the burgers are non-GMO, gluten-free, soy-free, and kosher. 
This is the closest thing to a real burger patty in terms of taste and texture. Some might argue it tastes even better, as it's juicier.
4. Lightlife Plant-based Grounds
There's no shortage of meatless grounds in the vegan market. However, Lightlife Plant-based Grounds might just be the most versatile and healthy. You can find some other variations as well, including Mexican grounds. 
The main source of protein is peas. The other ingredients include beet powder, garlic powder, coconut oil, and canola oil. The amount of protein per serving is 20g. 
5. Impossible Burger 2.0
If you're a burger person, there's no shortage of plant-based burger options. The Impossible Burger 2.0 is a top contender in the alternative meat market. The protein source of these burgers is soy concentrate, so these are not soy-free. 
In terms of taste, these might be some of the best burgers you'll taste. However, as they come from soy concentrate, these are quite processed. Nevertheless, they add more nutrients to fortify the burgers. The amount of protein in a single serving is 19g, and these burgers have zero cholesterol.
6. Quorn Crispy Nuggets
The UK-based Quorn makes its products from a protein source called mycoprotein. Unlike most plant-based meats, this one comes from a fungus in the soil. The company is quickly growing and releasing more products every year. 
However, their Crispy Nuggets are simply best. It has the most realistic chicken nugget texture. These can make a great snack for when you want to enjoy something different than veggies and fruits. 
You get 190 calories per 100g, while the protein is 9.4g. Mycoprotein is also rich in fiber, so you get 4.5g of fiber with these crispy nuggets. These are not vegan as they contain egg, but you can find vegan products from Quorn.
7. Tofurky Plant-based Crumbles Chorizo
Tofurky has also been in the vegan meat business for a long time. Their vegan chorizo crumbles are quite delicious and have a spicy flavor profile. You can enjoy some great tacos with this plant-based meat.
These Tofurky Crumbles Chorizo are non-GMO and gluten-free. The number of calories per serving of 55 g is 130. The amount of protein is 8g. It's also important to note that these contain sodium (340 mg per serving). 
8. Abbot's Butcher Chopped Chick'n
Abbot's Butcher Chopped Chick'n uses some really great whole food ingredients, including wheat protein and pea protein. You know the alternate meat is good when meat-eaters also enjoy it. 
It has a great texture similar to chicken, while the flavor is milder. There's so much you can do with this Chopped Chick'n. The protein source for Abbot's Butcher products is also pea proteins. 
These are non-GMO, soy-free, and oil-free. Another good thing about this company and its products is that they don't add artificial colors or preservatives. The amount of protein per serving is 9g, whereas the total calories are 100 kcal. 
9. Yves Veggie Ham
For those who may find it hard to say goodbye to their ham sandwiches, Yves Veggie Ham is a viable solution. Yves is a Canadian company that specializes in vegan deli meats. These make an easy breakfast ham sandwich in just minutes. 
This vegan ham is non-GMO and is rich in iron and Vitamin B12. The protein per serving is quite generous, coming in at 15g. The calories per serving for this vegan ham are just 100. 
It does contain a lot of ingredients, including tofu. So it's more on the heavily processed vegan products. Also, it's not gluten-free. 
10.  Daiya's Meatless Meat Lovers Pizza
Daiya is a popular alternative meat brand with a lot of healthy options. Their Meatless Meat Lovers Pizza is gluten-free and soy-free. It's also free of peanuts and tree nuts, so a lot more people can consume it. 
The cheese is also just like dairy-based cheese, while the meatless pepperoni will give you a hard time figuring if it's not real. This makes a tasty and easy dinner, especially for those who like some meaty texture on their pizzas. 
The number of calories per serving is higher in comparison with some of the other meat products on this list. Each serving contains 8g of protein. 
How to Avoid Processed Plant-based Meats?
The truth is that most plant-based meats are processed. They can never replace whole foods and whole grains, which is what a plant-based diet is all about. You should not rely on these products as a regular dietary staple. 
These are also good for those who are in a transition to a plant-based diet. A lot of people genuinely love meat, so it can be hard to cut back at once. These products can help satiate your meat cravings once in a while, and add some diversity to your pantry. 
So, what is the healthiest plant-based meat? You should go for meat alternatives that use fresh ingredients and whole foods. Don Lee Farms Chipotle Black Bean Burgers are a good example of a less processed whole food alternative meat option.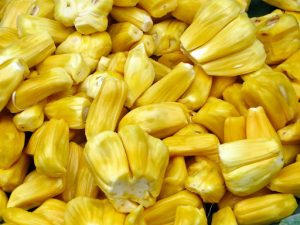 Similarly, jackfruit is a healthy whole food option to use as an alternative to meat. It's texture mimics that of meat and has a very rich flavor. You can even cut in chunks or shred it like pork or chicken. 
FAQs
Is Plant-based Meat Vegan?
Most plant-based meat products are vegan. However, some use non-vegan ingredients like eggs. Some brands like Beyond Meat and Lightlife only produce fully vegan meats, so as a vegan, you should stick to particular brands. 
Is Plant-based Meat Keto?
You can eat plant-based meat on a keto diet, as it does not contain a lot of carbs. It's a good source of protein too. However, many plant-based meat products have very low or no fat, which is something you want to eat more of. 
Is Plant-based Meat Gluten-free?
If you have gluten-intolerance, you should stick to meat alternatives that are specifically gluten-free. However, you'll have a lot of variety as most meat alternatives are gluten-free. 
Wrap Up
So what is the healthiest plant-based meat? Anything less processed and ideally containing whole-food ingredients. But you can make do with other processed meat alternatives too from time to time. 
As a general principle, keep whole foods and grains a priority in your diet. Plant-based meat may be healthy, but it cannot beat the nutritional riches of vegetables and fruits. 
You may also like: WHAT CAN YOU EAT FOR LUNCH ON A PLANT-BASED DIET? >>CLICK HERE!