What's the Best Plant-based Bread?
Bread isn't your enemy. Yes, it's rich in carbs, but not all kinds of bread are created equal. So what's the best plant-based bread?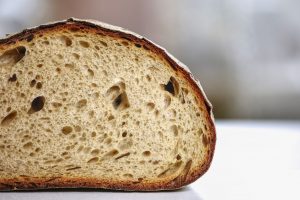 Well, there are many options out there for whole-food plant-based bread, which, contrary to popular opinion, don't exactly make you fat. That said, when you walk in the bread aisle, you'll be amazed by the sheer number of types and brands. So let's make things easier for you, so the next time you're buying one, you know exactly what you want. 
But before we discuss bread in detail, let's address a common concern many plant-based followers and vegans have. 
Is Bread Vegan?
Conventionally, bread uses four to five ingredients: flour, water, salt, yeast, and sometimes oil. So traditional bread, made from these very ingredients, is vegan. 
However, there are many commercial bread products that use non-vegan ingredients. These may include eggs, milk, butter, honey, cream, etc. So not every bread is vegan. 
Then, you also have some bread options which are highly processed and contain extra sugars. White bread is one of those, and not surprisingly, it's the most common too. It does contain essential nutrients, but it's not healthy at all. 
What's the Best Plant-based Bread?
While there are non-vegan bread options commercially available, there are loads of 100% vegan bread products as well. It goes without saying that those trying to eat a whole-food plant-based diet should choose one of those that are fully plant-based. 
Types of Plant-based Bread
If you know which type of bread is plant-based, it will make your time in the bread aisle so much shorter:
Whole-Grain Bread
This is the most common type of plant-based bread, as it uses whole or at-least partially whole kernels of cereals in the bread. There are multiple varieties available in whole-grain bread, with whole-wheat and multi-grain being the most popular. 
Sourdough
Sourdough is a kind of bread fermented with a special bacteria, commonly lactobacillus. It's made with vegan ingredients, including flour, water, and salt. Some bakers use yeast as well. You can also find gluten-free sourdough.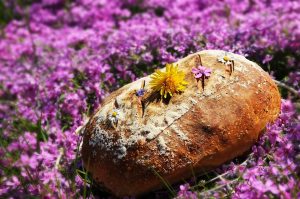 Ezekiel Bread
Ezekiel is hands down one of the best plant-based bread because it's simply healthier than many other varieties. It's more nutritious, and substantially high in protein and fiber too. 
It's made from sprouted whole grains. Unlike other bread, it doesn't just use a single kind of whole-grain but a variety of grains and legumes. The cereal grains in Ezekiel bread include wheat, barley, millet, and spelt, while the legumes include lentils and soybeans. 
Ciabatta
Ciabatta bread has an elongated shape and has a brittle crust. However, the inside is airy and soft. While there's one variety of ciabatta that isn't vegan, generally, this bread is wholly plant-based. 
Rye
Rye bread is made of rye cereal, which is similar to the wheat grain. However, the taste of rye bread is different. It's popular in northern Europe and Scandinavia. 
What's more, rye bread may also help reduce the risk of certain types of cancer. 
Focaccia
This Italian flatbread is also a delicious vegan bread option, sometimes topped with olive oil and fresh herbs. Those that have olive oil as topping are, of course, vegan, but there are some that may have butter too, making them non-vegan. 
Baguette
The long French bread hardly needs an introduction. Baguettes are vegan essentially, but not all are made of whole wheat. So if you're focusing on a plant-based diet, go with the one that's whole wheat.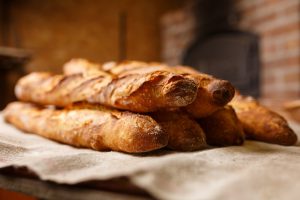 Pita 
The flatbread, common in the Mediterranean and Middle Eastern cuisines, is also vegan, as long as traditional ingredients are used. 
Best Plant-based Bread Brands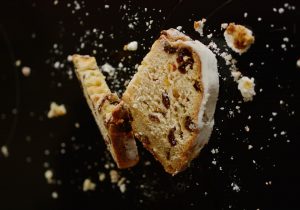 Now, let's make your bread buying experience even easier by listing some of the best brands for vegan bread. Knowing which brands stick to plant-based ingredients only and don't compromise on health can remove all the guesswork. 
All you really need to figure out then is what kind of bread you most prefer. 
Food for Life Ezekiel 4:9
Food for Life Ezekiel 4:9 easily tops the list when it comes to the best plant-based bread, both in terms of the bread itself and the brand. It's safe to say that it's the healthiest of all your bread choices out there. 
The Ezekiel 4:9 line includes a variety of bread, including buns and tortilla wraps too. So you're not bound by just one shape or size of the bread. You can make sandwiches as well as quesadillas with Ezekiel bread. 
The brand specializes in sprouted grain bread products, so you can trust their offerings. It's readily available in supermarkets across the country. So no matter where you are, you can find Food for Life Ezekiel 4:9.
Aside from fiber, the Ezekiel bread by Food for Life also contains all essential amino acids. As a result, it's also a rich source of protein. 
Bfree
If you're a vegan, you probably already know about Bfree. The brand probably has the most exhaustive list of vegan bread products. From pita pockets to sweet potato wrap, Bfree is the ultimate plant-based bread company. 
Apart from the usual sandwich bread and wraps, this company also offers buns, bagels, stone-baked pizza crusts, and baguettes. It also carries a healthier white sandwich loaf. 
It's actually from Ireland and has gained a lot of popularity in the US as well. 
Whole Foods 365
Whole Foods' brand name 365 products are some of the most affordable at that particular store chain. This supermarket isn't exactly the most affordable, but the 365 brands can easily compete with the bread prices at Walmart and Target. 
There are limited options when it comes to vegan bread, but still, it's a reliable brand. Plus, the low prices make it a good value. 
They have whole grain and 8-grain sandwich bread varieties, as well as, Indian naan and wraps. 
Simple Kneads
For those who have developed a taste for artisanal bread, Simple Kneads gives the home-baked bread taste and feel. Plus, their products are 100% vegan and gluten-free. 
Their sourdough is the best, baked in their North Carolina factory. Other than that, you also have rye, pumpernickel, as well as quinoa and teff. 
However, Simple Kneads isn't one of those brands that are available everywhere and in every store. 
Dave's Killer Bread
Another non-GMO certified bread brand that vegans can enjoy is Dave's Killer Bread. Their 21 Whole Grains and Seeds bread is full of nutritional richness. It's full of good carbs, fiber, protein, and iron. On top of that, it's not even high in caloric density.
Other vegan-friendly products include Thin Slices Organic Bread, Powerseed Organic Bread, 100% Whole Wheat Bread, among others. 
You'd be glad to know that this company also produces organic bagels. And we all know nothing beats the good old bagel with sesame seeds on top for breakfast. 
Little Northern Bakehouse
The Little Northern Bakehouse carries a wide selection of non-GMO, gluten-free bread products. This one label can cover all your breakfast needs, as well as your snack fix with its hot dog buns. You can use these with plant-based meat alternatives. 
There's just one bread that contains honey, so it isn't vegan. Besides that, you can buy their products without any qualms about animal products or gluten. 
For those who want to go the extra mile when it comes to health, their quinoa and millet loaf is the perfect choice. 
It's a Canadian company, based in British Columbia, but you can find its products in US stores as well. 
Trader Joe's Bread
How can a best plant-based brand list be complete without Trader Joe's? This store chain has a special place in vegan hearts. With their wide range of bread offerings, you can enjoy the goodness of whole grains for breakfast, dinner, and everything in between. 
Many of their sweet rolls as well as loafs are vegan. Then you have a sprouted sourdough that checks all the boxes of what makes a healthy bread. 
Obviously, the most attractive thing about their products is pricing, as Trader Joe products offer great value. Their Tuscan Pane Whole Grain is a vegan favorite. 
Bread SRSLY
If you're on the West Coast, you'll see Bread SRSLY in many small as well big box store chains. This San Francisco-based company produces gluten-free bread products, made with pure plant-based ingredients. 
Their sourdough is the most popular, offering the perfect texture and taste. However, their packaging is just as unique as they use paper bags instead of plastic. This makes their products eco-friendly too. 
Even though it's exclusively a West Coast brands, customers from other parts of the country can enjoy their delicious bread by ordering directly from their website. 
Ener-G
If you're looking for affordable, healthy, and reliable gluten-free bread choices, do check out Ener-G. They have an eclectic variety of loafs, including tapioca loaf. This bread is really low in calories, with the light version carrying only 45 calories per slice/serving. 
It's a company that has been around since the 70s, starting in Seattle, WA. 
Free Bread Inc.
The Free Bread Inc. carries your run of the mill white bread, but also some pretty exciting and tasteful vegan products. They use ingredients like millet and brown rice for some of their bread offerings. 
Their Cuadrados bread is the best, especially for a sandwich or bruschetta. And if that's not all, they even have fake bagels (fakels), buns, and rolls. 
Make sure to buy the bread that's marked vegan, as this company, like many others, also sells non-vegan products. 
Bonus: Best Plant-based Crackers, Pita, and Tortillas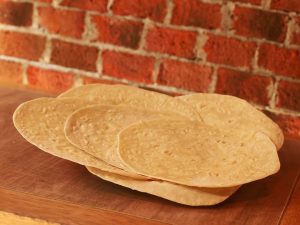 Here are the best plant-based crackers, pita, and tortillas:
Ritz Crackers
Did you know the original flavor of the Ritz crackers is vegan? Yes, they do taste buttery, but don't actually contain butter. That butteriness comes from vegetable oils. 
That said, there are some other great vegan crackers as well, like Simple Mills Almond Flour Crackers and Doctor in the Kitchen Flackers. 
Joseph's Flax, Oat Bran, and Whole Wheat Pita
You know it's healthy when it has flax, oats, and whole wheat. The Joseph's pita bread offers 6g of Protein per serving. Also, these pita bread pieces contain omega-3 ALA. 
These also come as wraps, in case you want something thinner. 
Mission Tortillas
Mission Tortillas are famous all around the world, but they are also a favorite among the plant-based community. Their vegan variety of tortillas is pretty decent. The best are, of course, the corn tortillas, which are 100% vegan. But if you want something even healthier, go for the whole-grain kind. 
FAQs
What Bread is Good for Weight Loss?
Bread traditionally is carb-rich and high in calories, so it's not great for weight loss. However, if you choose whole grain bread and keep the serving small, you can easily include it in your diet to lose weight. 
Is Ezekiel Bread Healthy?
Ezekiel bread is the least processed of all and often contains no oil at all. The sprouted whole grains are quite healthy. 
Is Yeast Vegan?
Yeast doesn't come from plants, but counts as vegan, as it's not animal product either. It's from the fungi kingdom. Yeast serves as an important part of vegan diet because it isn't just used in bread, it also serves as an alternative to cheese. 
Wrap Up
So what's the best plant-based bread? Here's the summary:
100% whole grain

No animal products

At least two grams of fiber per serving

No added sugars or preservatives

Minimum sodium
As long as the bread meets the above criteria, it can qualify as the best vegan bread. There are many brands with different kinds of bread, so you won't be short on choices. Try the brands and products in the list above to find your favorites!