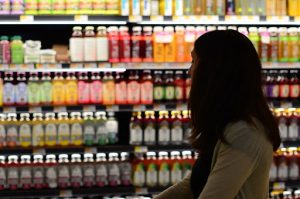 First thing's first, let's address this common misconception that if you're a vegan, you need some kind of specialty grocery store to shop. The truth is you can shop for vegan products virtually from any major supermarket or even your neighborhood bodega and mom and pop stores. 
As a plant-based eater, your grocery shopping should revolve around the fresh produce section, which virtually every store has. So it's not difficult to buy organic, vegan ingredients from stores nearby you. 
However, if you happen to live in big cities like Los Angeles, New York City, Boston, Chicago, and Austin, then you have even more options. 
How to Shop for Vegan Groceries?
Groceries can take up a major chunk of your monthly expenses, so you should try to be smart with it and buy groceries that are actually healthy and useful. 
The good news is that vegan groceries can save you money. A study by Sous Vide Guy showed that plant-based eaters, on average, spend $23 less per week than those who buy meat with their groceries. 
Buying plant-based groceries anywhere in the country should be easy. Your go-to section is the fresh produce section. Any store with a well-supplied fresh produce section is good for filling up almost all the vegan staples in your vegan grocery shopping list. 
First and foremost, you should buy whole foods, which you can find in every market. Vegetables, fruits, nuts, whole grains, and seeds in their raw, uncooked form are universally available everywhere.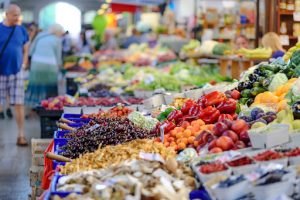 The only things you may not find at your local non-vegan grocery store or some select big-box retailers are those processed vegan foods, which you shouldn't be consuming a lot of anyway. 
You can also easily find staples such as gluten-free flours, plant-based milk (soy milk and almond milk), and tofu in a lot of these stores. 
Once in a while, you can also shop at those specialty vegan stores that only carry vegan products. Those can be pricey, but you can buy stuff that would last you a long time. 
Top 10 Vegan-Friendly Supermarkets
Let's talk about some of the big supermarket chains in America that are present either throughout the country or in specific regions or states. Although they do carry non-vegan products as well, this selection of stores can easily be qualified as vegan-friendly. 
When you traverse their aisles, you can find your vegan products side by side with non-vegan products. 
These supermarkets are also rated by the Good Food Institute (GFI), which is a non-profit dedicated to promoting sustainable food supply. 
Here are some of the best vegan-friendly supermarkets you can easily find near you:
1. Whole Foods
Whole Foods is probably the first thing that comes to mind when you think about vegan food. Although it's not a vegan-only supermarket, it does carry a lot of vegan varieties and some of the best fresh produce.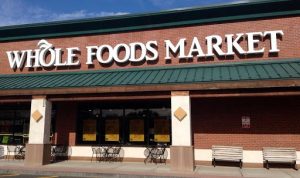 Plus, Whole Foods has stores all across the state. They have over 500 stores across North America, so the chances are that there's a Whole Foods near you. Also, you can get groceries from Whole Foods delivered through Amazon Prime as well. 
In the GFI report, Whole Foods is tied with King Soopers at the top spot with a perfect five-star rating. This is in part because of the ubiquitous presence and wide variety of products. 
And it's also worth mentioning that they have one of the best store ambiances. It's simply fun to shop there. 
2. Target
Where retailers across the country are struggling, Target has managed to grow. And one part of the business where they are growing the fastest is vegan groceries. 
Target has slowly expanded its vegan grocery line-up over the years. You can find all kinds of vegan products tucked into other non-vegan products. However, the stores have started marking vegan products as vegan and wellness products, so you can easily find these products. 
In comparison with Whole Foods, Target has more stores throughout the country, over 1800 in North America. 
And while you're shopping for groceries, you can also find cruelty-free skincare and makeup at Target. 
3. King Soopers
The Denver-headquartered supermarket is present mostly in the state of Colorado, in the Rocky Mountain region. So if you live in that Centennial State, you'll find everything vegan in one place. 
They carry over 35 private vegan labels with some of the most sought-after products on offer. They also carry the Simple Truth food line, which is gaining a lot of popularity in the plant-based community. Since their parent company is Kroger, you'll find a lot of Kroger products as well. 
The best thing about King Soopers is that they offer really good prices. So you can buy organic, authentic, vegan produce and products without spending a fortune.
4. Trader Joe's
Trader Joe's is another good supermarket where you can find cheap groceries. It's especially great if you value good customer service. They have some of the best staff. 
Yes, Trader Joe's is almost all private labels, but the products are quality. You do get limited choices in terms of brands, but then you also get to save some bucks, as Trader Joe's offers low prices. 
As for the variety of vegan stuff, you can find organic, non-GMO, and even gluten-free products. It's a great choice for buying produce as that's easy to find without deliberating about ingredients like you would with processed food products. 
5. Ralphs
Ralphs is another store chain from Krogers that carries many vegan brands, including Tofurky, Simple Truth, Gardien, and Follow Your Heart. Its stores are mostly located in California, as the company has its roots in Southern California.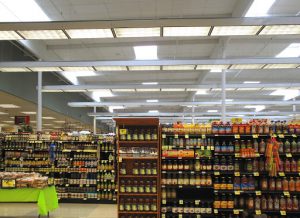 In terms of vegan food variety, Ralphs offers decent choices. They also have really good fresh produce, so if that's something you're very particular about, you should head to a Ralphs near you. 
6. Publix 
Publix stores are predominantly present in the Southeastern states, with over 1250 locations. In Florida alone, they have over 800 stores. It has a nice product assortment when it comes to vegan groceries. However, they are known for their subs, so perhaps you can also get a vegan sub for lunch. 
Publix, like most other major supermarket chains and retailers, is slowly expanding the vegan variety on their shelves. The growing demand for organic, certified vegan products is driving this change. 
They also carry Impossible Burgers, which are a plant-based meat-alternative that even meat-eaters like. 
7. Kroger
Kroger is another popular supermarket chain with locations all across the country. They carry brands like Miyoko's, So Delicious, Daiya's, and of course, Kroger's own Simple Truth. The Simple Truth product line is quickly growing, offering everything a vegan could ask for. 
From cookie dough to dips, you can find all sorts of vegan products at Kroger stores. 
Kroger isn't seen as a cheap grocery store, although their staples are somewhat cheap. If you compare it with Walmart, it's probably pricier. 
8. Wegmans
Wegmans carries the most variety of plant-based products with over 500 different vegan products. You can easily find any of your favorite brands at this store. It's primarily present in the Northeast of the country.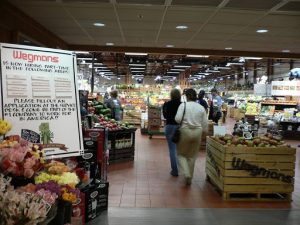 If you're looking for a variety of plant-based milk products, Wegmans is the place to shop at. They have a huge variety of dairy-free products, from famous brands such as Oatly, Daiya, and Califi. 
9. Shop Rite
Shop Rite is another store chain in the Northeastern states. You can find a lot of plant-based meat options at their stores in the frozen section. That, paired with the fresh produce, makes it a viable choice for vegans. 
Even if you find their vegan assortments a bit limited, you'll find plenty of stuff in the produce section to prep for your breakfast, lunch, and dinner. 
10. Walmart
If you're a Walmart fan, you'd be happy to know that there are plenty of vegan products available on its shelves, with more being added frequently. Walmart is especially great for buying vegan meat, as they carry Beyond Meat burgers, Beefless Crumbles by Gardein, Tofurky, and many others. 
Of course, the best thing about shopping for groceries is low prices. You can get these products at perhaps slightly lower prices. 
Local Vegan Stores
You also buy your vegan groceries at any fully vegan stores. Many major cities have local vegan markets full of organic, vegan products. The benefit of shopping at such stores is that you know everything is vegan, so you don't really have to comb through stuff on shelves to find what you need.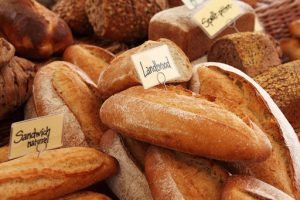 Here are some of the vegan markets you can explore if you live near them:
1. Animal Place's Vegan Republic in Berkeley, California
It's one of its kind vegan specialty stores in the whole of Northern California. You can find scores of high-quality vegan products and fresh produce at competitive prices. 
However, what really makes this store truly vegan is that all the proceeds go to Animal Place Sanctuary. 
They also offer a monthly snack subscription service to deliver your favorite, healthy vegan snacks right at your doorstep. 
2. Vegan Bodega in New York, New York
If you're big on buying local, organic stuff, Vegan Bodega will make you very happy. They source products from nearby vendors, so you also support local vegan producers. 
3. Nooch Vegan Market in Denver, Colorado
Nooch Vegan Market in Denver may be a small store, but its product line-up gives big supermarkets a run for their money. They carry artisan products made with premium-quality ingredients that will delight your vegan taste palette. 
4. BESTIES Vegan Paradise in Los Angeles, California
BESTIES carries a huge variety of vegan products, especially vegan cheeses. They've named the store aptly, as it really is a paradise for vegans. With hundreds of brands under one roof, this is the place to shop vegan groceries if you're in the Greater LA area. 
5. Green Grocer Chicago in Chicago, Illinois
If you're looking for artisanal gluten-free bread and local produce from nearby farms, then Green Grocer Chicago is the place to shop. They carry a very selective but high-quality assortment that should cover your staples easily. If you're in the downtown Chicago area, it's a convenient place to find vegan groceries, as well as take out. 
Wrap Up
What is the best vegan grocery store near me? Well, it's any store that provides fresh produce really. A healthy vegan diet is one that focuses on whole foods, and those you can find anywhere from your local fruits and vegetable street vendor to any of the big box retailers. 
If you want to buy vegan products like vegan milk, cheese, meat, and condiments, you should be able to shop at any of the stores above. Many supermarkets are growing their vegan inventory as demand is soaring. It wouldn't be long until big players like Walmart and Target have dedicated sections to the vegan grocery.