Are Bagels Vegan?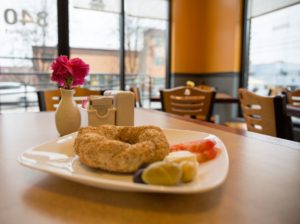 New York City may be known for its bagels, but this donut-shaped bread is a favorite everywhere. You can find them everywhere, from street stalls to fancy live bakeries. But are bagels vegan? That's the question!
Bagels have a very rich history, originating in Poland. Although pretty simple looking, you can find many varieties today. These are also pretty popular for breakfast sandwiches. 
These rolls have a crusty surface and a dense interior. Unlike other bread, this dough isn't tossed in the oven right away. The bagels are first boiled for a little bit before going in the oven, which is typically small. 
Is a Bagel Better than Bread?
This depends on which bread it is, which bagel it is, and most importantly, who you're asking. Many people simply love bagels for their texture and taste. However, bagels are essentially a kind of bread at the end of the day. 
Both flour-based bread and bagels are high in carbs. So there's not much difference in terms of calories or nutrition. For instance, a plain bagel has approximately 250 calories, which is roughly equivalent to three slices of bread. A slice of bread has around 80 calories, so a bagel is a little over three slices.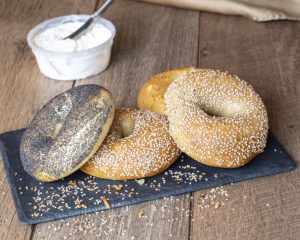 So they are quite calorie-dense especially compared with a single toast in the morning. Also, the ingredients are pretty much the same (more on that in a bit). 
Now, as far as the taste goes, that depends on the bagel because there's just so much variety these days. Also, there's something about a fresh bagel that store-bought bread or even store-bought bagels can't compete with. 
Do Vegans Eat Bagels?
Most bagel varieties are vegan, as the traditional ingredients are all plant-based. So vegans can eat bagels, and many do enjoy them. You'll find them in vegan bakeries, restaurants, and stores. 
That said, not all bagels may be vegan. Some bagel varieties have other ingredients, mainly for flavors, that may not be plant-based. For instance, some bagels also have cheese as an ingredient, which comes from milk and is, therefore, not vegan.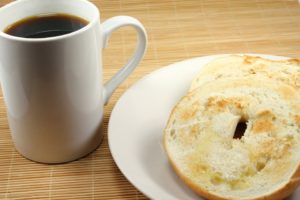 So as a vegan, you should pay a little more attention to the bagel type. If it's a plain bagel with black or white sesame seeds on top, you're good to eat it. However, knowing which brands or restaurants make vegan bagels can make things even easier. 
When in doubt, go with the plain bagel, as the recipe for plain bagel doesn't call for any animal-based ingredients. 
When it comes to bagels, how can you forget the topping? Unfortunately, the two most popular toppings on bagels are non-vegan. These are cream cheese and brined salmon (lox). But don't worry, thanks to ever-growing veganism, you can always go for dairy-free cream cheese. 
What Ingredients Are In Bagels?
The main ingredients in a bagel include wheat flour (mostly white), water, salt, and yeast. All these ingredients, including yeast, are totally vegan. Some bagel recipes also use fat, which is normally vegetable oil or shortening, another vegan ingredient. 
This holds true for plain vegans, but flavored bagels can have other ingredients too, which also include some that come from animal sources. These ingredients may include milk, cheese, or eggs. 
It's best to see the bagel's ingredients on the packaging when buying in-store and avoid any flavors altogether. And when ordering in a cafe or bakery, just order a plain or ask the staff whether they are, in fact, vegan. 
Also, watch out for a controversial vegan ingredient, L-cysteine. It's sometimes used in commercial bagel recipes and is not always vegan. This is often obtained from poultry feathers, which makes it non-vegan. 
What Bagels Are Vegan? 
Most bagels are essentially vegan, which is why the bagels you'll find at many shops and restaurants are safe for consumption. So, where exactly can you find vegan bagels:
Einstein Bros Bagels:

A popular place to get that morning bun, Einstein Bro's classic, and most other varieties are vegan. Even the Thintastic and Gourmet Bagels are vegan. 

Starbucks:

For all your Starbucks regulars, the plain, Blueberry, Raisin, and Sprouted Grain bagels are all vegan. 

Dunkin Donuts

: The donut king Dunkin Donuts also carries a wide variety of vegan bagels. These include Plain, Cinnamon Raisin, Everything, Garlic, Onion, Poppy-seed, Salt, and Sesame. 

Panera Bread:

The bakery chain Panera Bread's Plain, Blueberry, Cranberry, Poppy-seed, and Walnut bagels are safe for vegans. 

Tim Hortons:

Canada's favorite restaurant chain also carries some vegan bagel varieties, including Plain, Everything, Cinnamon Raisin, Pretzel, and Blueberry. 

Noah's Bagels: The California-based Noah's Bagels has mostly vegan bagels. They even have vegan cream cheese on the menu. 
What Are the Best Vegan Grocery Store Bagels?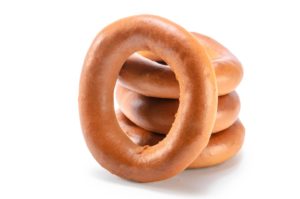 You can easily find vegan bagels in many grocery stores these days. Many brands are producing bagels using the same traditional ingredients that are all plant-based. 
Dave's Killer Bread:

One of the favorite generic brands for vegans, Dave's Killer Bread doesn't use any animal products in any of its products, including bagels. So all of their bagel varieties are vegan-friendly. 

Thomas' Bagels:

Most of their bagels are vegan, including Plain, Plain made with Whole Grain, Blueberry

,

Cinnamon Swirl, Cinnamon Raisin, Everything, Onion, and 100% Whole Wheat. This also includes the mini bagels and bagel thins. 

Alvarado St:

All of Alvarado St bagel varieties are vegan, except Sprouted Wheat Cinnamon Raisin Bagels, which has organic honey. 
Are Bagels Vegan – A Summary
Bagels are mostly vegan, both in restaurants and stores. However, when buying flavored bagels, take a minute to look at the ingredients, especially if they aren't certified vegan. Many bread brands in stores now label their products as vegan, which makes things super easy. 
The traditional ingredients include all vegan ingredients, so the good old plain bagel is all vegan. But some may have milk, eggs, or honey, so watch out for those ingredients when buying these delicious rolls. 
As for the toppings, they may or may not be vegan. However, you can make them vegan. Just go for the vegan alternative.