Just because you're a vegan doesn't mean you can't enjoy Taco Tuesdays. Mexican food traditionally uses a lot of diverse ingredients, which often also includes meat and dairy. So how to make Mexican food vegan?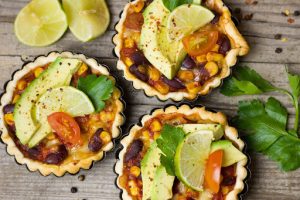 You may be surprised that a lot of Mexican food is technically vegan. You'll always find some vegan options at your local Mexican restaurant. However, the real fun is making vegan Mexican food at home because you can ensure it's fully vegan, plus you can experiment. 
Mexican cuisine may be the best way to add some zing and spice to your plant-based eating. You can easily load on lots of veggies with really savory and spicy flavors. And, of course, it's a lot healthier too. 
Tips on How to Make Mexican Food Vegan
You're probably thinking, isn't there meat in tacos, enchiladas, and tamales, the holy trinity of Mexican food? Well, it doesn't necessarily need to have meat or cheese. Meat is only used in the filling, which can be omitted. 
Here are some tips to make even that Mexican food vegan, which normally is not:
If you want to maintain the same textures as the dish is traditionally made, you can always go for vegan meat options. A lot of Mexican food uses beef ground, which you can easily replace with vegan grounds. Similarly, you can opt for other meat alternatives to incorporate the same chewy texture. 
Many non-vegans also use meat alternatives, which just goes to show how good they are. So you can always enjoy authentic Mexican food but also keeping it vegan. 
Beans, Beans, and More Beans
The good news for vegans and whole-food plant-based diet followers is that Mexican cuisine uses a lot of beans already. But you can go a step ahead and use more beans in lieu of meat. Besides, eating beans in the Mexican way is the most flavorful way. 
You can easily find vegan Mexican restaurants, especially if you live in a big city. If you want to enjoy a Mexican menu that's all vegan, this is your best bet. Instead of nitpicking dishes in a regular Mexican restaurant, go for a vegan one. 
You'll also be supporting local vegan business, so that's a great plus!
So what if you cannot find vegan Mexican restaurants or feel there aren't enough vegan options at other Mexican restaurants? You can easily make any Mexican dish vegan cooking it at home. Use vegan ingredients to turn up some delicious recipes.
Vegan Mexican Recipes You'll Love
The internet is filled with vegan Mexican food recipes that are not just appetizing to look at, but truly taste great. You can have quite a lot of variety, especially in terms of flavors and textures. There are some really good Mexican-inspired salad recipes too for when you want a little boost of spice in your salads. 
Jackfruit Tamale
The folks over at Forksoverknives.com know a thing or two about eating veggie. They've crafted this wonderful Jackfruit Tamale recipe for those of us that crave these little wrapped surprises. 
Jackfruit works great in savory dishes, so it only makes sense to use it in Mexican specialty, the tamale. If you can get your hands on fresh jackfruits, that's great. Otherwise, use canned jackfruit, one which is free of sodium.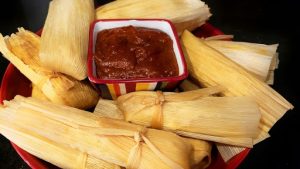 Masa dough for tamales can use pumpkin in place of fat. That manages to keep the same lightness and texture. You can use canned pumpkin for this. 
For the delicious chili sauce, you'll need:
Onions

New Mexico chilies

Maple syrup

Garlic

Ground cumin

Oregano

Sea salt
Cook the sauce by first roasting the chilies and then removing seeds. Then you cook them with onions in a bit of water. Mix in the spices and blend it in a blender or food processor. It's super simple!
For the instructions on how to prepare the masa dough and assemble the tamales, head over to Forks Over Knives. 
Crockpot Quinoa Tacos
These Crockpot Quinoa Tacos from Plantstrong.com are not just a great plant-based Taco recipe, but a smart fix for when you're hosting and want to make lots of tacos. Hence, the crockpot. 
The highlight of the recipe is, of course, the protein and fiber-rich quinoa. Then you have the usual tomatoes, corn, black beans, and salsa. 
These are pretty easy to make, as you add the quinoa, beans, corn, salsa, and tomatoes with vegetable broth into the crockpot, cooking for three hours. You can make your own seasoning or use a store-bought packet. 
Once cooked, just add the delicious filling into corn tortillas and top with cilantro, avocado, and some fresh lime. 
Black Bean Enchiladas
The sauce can really make or break enchiladas, and this vegan enchilada recipe uses an incredibly flavorful sauce. For this recipe, you'll need:
Veggies for the filling and topping (onions, bell peppers, and portobello mushrooms)

Black beans

Corn tortillas

Enchilada sauce 

Cilantro

Guacamole
The guacamole replaces the cheese and provides a similar creamy texture. For the enchilada sauce, you can use a vegan packaged sauce. But for better flavor, go with this homemade enchilada sauce recipe.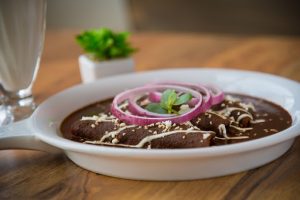 Here's how you make them: 
Cut the veggies in thin slices and stir fry them in some olive oil

Add the beans 

Add seasoning (garlic powder, onion powder, cumin, paprika, kosher salt, vegetable broth, and lime)

In a baking tray, cover the bottom with enchiladas sauce (use one-third)

Fill the tortilla with about one-quarter cup of filling and a tablespoon of guacamole (don't overfill)

Roll the tortilla and place them seam side down in the tray

Repeat the process with all tortillas until the baking tray is full

Pour over the remaining two-thirds of the sauce over the tortillas

Preheat the oven to 400 degrees

Bake for five minutes and garnish with fresh cilantro, chopped onions, and radishes
Note: This recipe uses olive oil, which you can omit when following the Whole Food Plant-based No Oil (WFPBNO) diet. You can cook the veggies in some vegetable broth alone.  
Cheesy Corn and Avocado Quesadillas
These so-called cheesy quesadillas are 100% vegan, as the cheese is made from corn. The filling is gooey, delicious, and filled with nutritional wealth. Here's what you need:
Canned corn

Nutritional yeast

Garlic cloves

Salt

Black pepper

Avocados

Cherry tomatoes

Flour or corn tortillas
For the corn cheese, mix corn, nutritional yeast, garlic, salt, and pepper in a blender or food processor. Make sure you don't blend it completely and keep it a bit thick to give the cheese-like texture. 
Put sliced avocados and cherry tomatoes on a tortilla, and top with the gooey corn cheese. Be generous, as these quesadillas are all about the filling. Put on the second tortilla.
Cut the quesadilla into four triangles, and bake in the oven at 400 degrees for about 15 minutes. Here's the detailed recipe from Onegreenplanet.org with quantities for each ingredient. 
Black Bean Quinoa Salad with Orange Lime Dressing
MinimalistBaker.com does a great job with this yummy dish. This salad recipe inspired by Mexican flavors is filled with superfoods and different textures. Using mostly traditional Mexican ingredients, this salad incorporates different flavor profiles, making it unique. And the dressing is out of this world!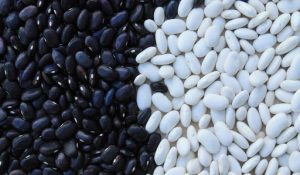 Here are the ingredients:
Black beans

Quinoa

Leafy greens

Avocados

Onions

Corn

Orange

Cilantro
For the dressing
Vinaigrette

Avocados

Orange juice

Lime juice

Chili powder

Cumin
Boil and cook the black beans and quinoa. Add them to the veggies, and top off with the dressing. The dressing uses some avocados so you can blend it with a blender. Avocado adds a creaminess to the dressing and balances the strong acidic flavors from the orange and lime juices. 
Plant-based Tamale Bowls
Most Mexican recipes are super easy and quick to make, but if you're looking for a particularly easy recipe, try the plant-based tamale bowls from PureandPlantBased.com. These use polenta topped with beans, chickpeas, or even vegetables. It's great for weeknight dinners when you're craving for some Mexican flavors, but don't want to make a lot of effort. 
You basically just have to cook the polenta. Here are the steps:
Cook the polenta in water until there are no clumps

Keep whisking and add almond milk and seasoning (garlic powder, black pepper, cumin, salt)

Cook for another 10 to 15 minutes on low heat
You can serve it in a bowl topped with beans of your choice and fresh veggies like onions, tomatoes, and cucumber. The polenta is basically the base of this dish, so you can experiment with the toppings. 
It's a super healthy meal that gets ready in under 30 minutes. The beans and veggies add a crunch to the smooth texture of the polenta. 
Green Chili Rice with Black Beans
Rice is an important part of Mexican cuisine. If you want to enjoy rice Mexican-style or want to add a side dish for your enchiladas or other savory main courses, this Green Chili Rice recipe from Forks Over Knives would be perfect.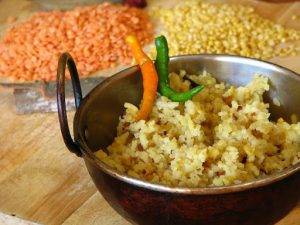 It's a simple one-pot dish that you can make with black beans or without. This recipe uses three types of green chilies to add some density to the flavor. It features brown rice, which is a healthier choice than white rice. 
Here are the ingredients:
Poblano green chilies

Mild green chilies

Jalapenos

Cilantro

Spinach

Vegetable stock

Brown rice

Onions

Black beans

Vegetable stock

Cumin

Salt

Lime zest
Here are the steps:
Blend poblano green chilies, mild green chilies, cilantro, and spinach with a few tablespoons of vegetable stock

Pour this pureed mixture into remaining vegetable stock

Add the rice and bring the mixture to a boil at high heat

Reduce the heat and cook for 40 to 45 minutes

In another saucepan, saute the onions for a few minutes

Add a splash of water and add jalapenos, cumin, and beans

Cook for five minutes then add the cooked rice

Season with salt and lime zest
Unfried Refried Beans
While technically you can eat refried beans at Mexican restaurants as these are vegan, but they do contain oil. If you're following WFPBNO, you don't typically want to consume dishes with oil. This recipe is the solution to your oil problem when it comes to refried beans. 
Shane from Shane and Simple has come up with an oil-free alternative that's also low-sodium, and not to mention just as delicious as the real deal. 
All you need is two cans of pinto beans (make sure to get low-sodium ones). These beans will not be cooked, unlike the refried beans. Instead, you just throw the flushed beans into a food processor with some seasonings. Add bean juice as you mix until it reaches a nice consistency. 
These unfried refried beans can be used as dips or as filling for tacos and burritos. 
Kale Nachos
Your regular nachos are vegan and gluten-free, but when the vegan chef inside you feels experimental, try this Kale Nachos recipe from MinimalistBaker.com. It's incredibly healthy, perhaps even more so than the real tortilla chips that are processed. So kale as a whole food is a great alternative.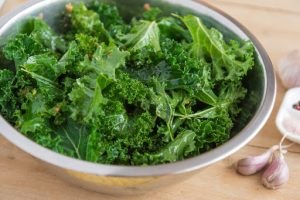 This recipe also calls for some fried sweet potatoes (hello more fiber!). You just need kale chips, fried sweet potatoes, and any topping of your choice. It could be beans, salsa, or guacamole, anything you usually prefer with your nachos. 
It will be ready in under 30 minutes and makes a great snack or even dinner if you will. This also serves as a great way to eat kale if you ever get bored of eating it in your salads. 
Wrap Up
Now that you know how to make Mexican food vegan, you'll never complain that there aren't enough Mexican food choices for vegans. If these recipes inspired you, there are dozens more on these websites that we all love and trust. 
If you notice, Mexican food, in general, uses a lot of plant-based foods. After the Mediterranean diet, perhaps Mexican food has the most proximity to a vegan diet. And it's all so diverse, using mostly whole foods. 
These recipes don't use anything that you can't find in your local market. Plus, the flavors are so great, even a non-vegan person would appreciate them. So one can even make these when having people over.