Best Vegan Recipes When Working From Home
Work from home (WFH) has become a new reality for a lot of us. While there are pros and cons to it, one con or perhaps a pro is that you have to sort your lunch at home too. No more buying sandwiches from that corner deli or salad from the cafeteria. So for this post, I'm going to round up some of the best vegan recipes when working from home.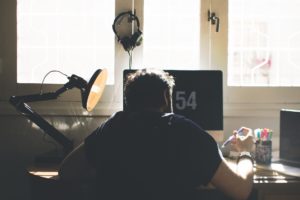 Even though the pandemic seems to be getting somewhat under control as the world opens up, we can all agree that it has changed how we work for good.
Given the chance to work from home, many people have realized that it's a better setup for them. So much so that people are quitting jobs instead of going back to offices. Employers could also benefit from part of their staff working from home, as they can reduce their expenses. 
The fact of the matter is that work from home isn't going away any time soon. So if you're one of those people jumping from your bed to the home office desk every morning, you're going to want to learn some quick lunch recipes that are totally vegan. 
Best Vegan Recipes When Working From Home
You can order your lunch in, but it would be healthier and economical to prep lunch at home. So without further ado, here are some quick vegan recipes great for lunch and perhaps dinner as well for those long weekdays. 
Lemon Broccoli Rotini
This pasta recipe is packed with the punch of lemon. It won't take more than half an hour for prep and cooking time, so you can get it ready in half of your lunch break and enjoy it in the other half. It's also a great option if you have kids or your partner at home as well, so you can cook for all. 
Ingredients
Sliced cremini mushrooms (3 cups)

Onion (one medium, chopped)

Garlic (4 cloves, minced)

Low-sodium vegetable broth (2 cups)

Plant-based milk

of your choice (2 cups)

Lemon (one)

Whole wheat rotini pasta (4 cups)

Broccoli florets (6 cups)

Red bell peppers (½ cup, chopped and roasted)

Fresh tarragon (one teaspoon)

Sea salt 

Ground pepper
Steps
Add mushrooms, onions, and garlic into a large saucepan and cook for two to three minutes. You can add some water as needed to prevent the veggies from sticking. 

Add the pasta, vegetable stock, and plant-based milk. Bring to a boil. 

Simmer for five to seven minutes or until the pasta is half cooked/tender. 

Take one teaspoon of lemon zest and add to the pasta. 

Now, add broccoli, bell peppers, and tarragon. Give it a mix. 

Cook for another five minutes and finally add salt and ground pepper to taste. 
Recipe Courtesy of Forks Over Knives
Chickpea Salad Sandwich
There's nothing easier than fixing a sandwich for lunch. So when you're absolutely pressed for time, make this chickpea salad sandwich. It will take just 10 minutes to make. 
The easiest thing to do is to use canned chickpeas rather than boiling your own. One can make two sandwiches, and if you're a light eater, one should be enough for you. 
Other than the chickpeas, you'll need to slice some celery and green onions. For the dressing of the salad, you'll need two tablespoons of vegan mayonnaise and some lemon juice. Mix everything and sort of smash it with a fork a little bit. 
Then simply spread it on two slices of your favorite bread. You can also add hummus if you want more chickpea flavor and that Mediterranean vibe. 
Recipe courtesy of A Couple Cooks
Tofu Scramble
If you're having brunch when working from home, this tofu scramble recipe is the best idea. You'll get plenty of protein from the tofu, and the recipe is super quick and easy to make. It has 19 grams of protein, which should cover a major part of the recommended protein intake for a day according to your body weight. 
Also, it's full of flavor, unlike scrambled eggs, which typically just have some seasoning. You'll need extra firm tofu, which you can easily find at any supermarket. 
Ingredients
Extra firm tofu (one block or 14 ounces)

Garlic powder (one teaspoon)

Onion powder (one teaspoon)

Paprika (¼ teaspoon)

Kala namak salt (¼ teaspoon)

Turmeric (¼ teaspoon)

Nutritional yeast (2 tablespoons)

Ground pepper to taste

Veggies of your choice chopped (optional)
 Steps
Drain the tofu and break it into smaller pieces until it resembles scrambled eggs.

Add all the spices and nutritional yeast into the scrambled tofu and let it sit for a couple of minutes (this allows it to absorb the flavors).

In a non-stick pan, add the scrambled tofu mixture and saute on medium heat for 8-10 minutes. 
Recipe courtesy of Karrisa's Vegan Kitchen
Kale Ceasar Salad
A lot of us prefer eating light for lunch, so salads are an obvious pick. This kale caesar salad is super healthy and, of course, very easy to make. It takes less than 20 minutes to prepare, so you'll still have like 40 minutes from your lunch break to eat it and get any chores around the house done. 
Ingredients
Quinoa (⅓ cup, rinsed and drained)

Garbanzo beans (450 g, canned)

Baby kale (180 g)

Cherry tomatoes (180 g)

Whole grain bread (2 slices)

Cashews (½ cup, unsalted)

Plant milk (6 tablespoons)

White wine vinegar (6 tablespoons)

Dijon mustard (4 teaspoons)

Garlic (2 cloves, minced)

Sea salt

Ground pepper
Steps
For the croutons: Preheat the oven to 190 degrees and bake crumbs for up to 10 minutes. Let them cool. 

For the quinoa: Add ⅓ cup of water in a pan with quinoa and bring to boil. Let it simmer for about 20 minutes or until quinoa is cooked. 

Soak cashews in hot water for about 15 minutes. Drain the water. 

Dressing: In a blender, add soaked cashews, dijon mustard, plant milk, vinegar, and garlic. Blend until smooth and add salt and pepper to season. 

In a salad bowl, add kale, garbanzo beans, cherry tomato, and quinoa. 

Pour half the dressing into the salad mix and combine. Top it off with the croutons. 

Add the remaining dressing as you like. 
Recipe courtesy of Forks Over Knives
Gluten-Free Spinach Tortilla Quesadillas
So this quick and easy recipe comes from the TikTok vegan mom, Tabitha Brown. It's more of a quick snack than lunch, but you can have it for lunch when working from home. All you really need is some spinach gluten-free tortillas and vegan cheese. That's it!
Tabitha used Daiya cheddar and mozzarella shreds, and she also added a little bit of garlic powder. She served these with some salsa. It doesn't get any quicker than this. 
Spring Roll Bowls
Now, this recipe gives you the delicious spring roll taste without the need to roll them, which is a time-consuming process. So it's a great recipe for lunch, especially when you're short on time. The star ingredient is the peanut sauce that you can make from scratch pretty easily. 
Ingredients
Brown rice noodles (4 ounces)

Frozen edamame (⅔ cup)

Snow peas (1 cup, halved)

Cucumber (1 medium, chopped into bite-size pieces)

Carrots (½ cup, coarsely shredded)

Radishes (2 tablespoons)
For the peanut sauce:
Creamy peanut butter (2 tablespoons)

Maple syrup (1 tablespoon)

Lime juice (1 tablespoon)

Garlic (1 clove, minced)

Ginger (1 tablespoon, grated)

Fresh cilantro (1 tablespoon)

Salt

Ground pepper
Optional Toppings
Thai or jalapenos peppers

Crushed peanuts

Cilantro

Chopped green onions

Fresh lime
Steps
For the peanut sauces, combine all the ingredients in a bowl and whisk until they have a creamy consistency similar to that of maple syrup. Season with salt and pepper. 

Cook noodles as per the instruction on the packet. Drain the noodles and rinse with cold water to let them cool down. 

Cook edamame as well, according to package instructions. 

Take two bowls and divide the noodles between them. Top with edamame, carrots, radishes, cucumbers, snow peas, and any other toppings you have chosen. Sprinkle the peanut sauces over the toppings.
Recipe courtesy of Forks Over Knives
Guacamole and Mango Salad with Black Beans
Mangoes make the summertime extra special, so when working from home this summer, fix yourself this delicious mango salad with guac and beans. There are many variations of mango salad, all super easy, by the way. However, this one is more nutritionally well-balanced. And it's low on calories too for those watching their weight!
Ingredients
Mango (one small, peeled and chopped into cubes)

Avocado (one, stoned, peeled, and chopped)

Canned black beans (14 ounces)

Cherry tomatoes (100 g, halved)

Red onion (1 medium, chopped)

Red chili (1, deseeded and chopped)

Lime (zest and juice)

Cilantro (½ pack, chopped)
Add everything in a salad bowl and squeeze in lime and add its zest. Mix well and enjoy!
Recipe courtesy of BBC Good Food
Crispy Tofu Lettuce Wraps with Peanut Sauce
Lettuce wraps are all the rage these days, but they go way back. These are a healthy fix for lunch, but these will take some time to prepare. However, the recipe itself isn't that difficult. You can even use cabbage if you don't have lettuce in your refrigerator. 
Ingredients
For Tofu:
Extra-firm tofu (14 ounces)

Tamari or soy sauce (3 tablespoons)

Chilli garlic sauce (2 tablespoons, optional)

Sesame oil (1 tablespoon)

Maple syrup (2 tablespoons)

Cornstarch (5 to 6 tablespoons)
For Peanut Sauce:
Creamy peanut butter (½ cup)

Tamari or soy sauce (1-2 tablespoons)

Maple syrup (1-2 tablespoons)

Chilli garlic sauce (1-2 tablespoons, optional)

Lime juice (2-3 tablespoons)

Water (2-3 tablespoons)
For Wraps:
Lettuce or Cabbage (one small)

Sliced/chopped veggies

Cilantro for garnish
Steps
Here's the complete recipe:
Recipe courtesy of Minimalist Baker
Lentil Soup in Instant Pot
When you hear of soup or stew, you'd probably think of hours of slow cooking. That's not the case when you use an instant pot. Now, there are many recipes you can try out, but when you use an instant pot, the cooking time drastically reduces. 
You can find my go-to instant pot lentil soup recipes here.
Coconut Roasted Butternut Fennel Bisque
This Coconut Roasted Butternut Fennel Bisque recipe is more suited for winters, but you can also have it in summers, when it's raining and you want to feel cozy at home. This is not a quick recipe, though. However, you can start prep early while also working to get it ready by your lunch break. It stores well in the refrigerator, so you can make more and use it any other day of the week.
Ingredients
Butternut squash (1 large or 6 cups of cubes)

Fennel bulb (one)

Coconut milk (2 cans or 2 cups)

Garlic (2 cloves, minced)

Onion (½ cup, diced)

Filtered water (1 cup)

Extra virgin olive oil (2 tablespoons)

Dry white wine (⅓ cup)

Vegetable bouillon cube (one, unsalted)

Lemongrass stock (one, hammered and cut into three pieces)

Hot paprika (1 teaspoon)

Curry powder (1 teaspoon)

Lime juice (1 tablespoon)

Cilantro (¼ teaspoon)

Sea salt (1 tablespoon)
Steps
Prepare the squash into one-inch cubes.

Preheat the oven to 375 degrees and line a baking sheet with parchment paper. 

Cut the stalks of the fennel bulb and get rid of the core. Cut it in half, and then again cut the halves into further halves. Spread on the baking sheet and drizzle a tablespoon of olive oil.

Bake for 30 to 40 minutes until the fennel is slightly brown. 

Add the

veggies

onto a pan and drizzle with the remaining teaspoon of olive oil, and roast them.

In another quart pot, add the onions and saute on medium heat for five minutes. 

Add the garlic and lemongrass to the onions and saute for another five minutes.

Now, add the bouillon cube and white wine and cook until the wine reduces and the cube is mixed in the liquid. 

Add water and coconut milk and cook on low heat. 

Add in the roasted veggies. 

Move this liquid mixture with veggies into a food processor or use an immersion blender to puree the mixture. 

Cook the mixture in the same pot for another 15 minutes. 

Garnish with cilantro and fennel. (Extra coconut milk optional)
Recipe Courtesy of One Green Planet
Wrap Up
Try these best vegan recipes when working from home to make your workday a little more exciting. Most recipes take less than 20 minutes, which makes them ideal for when you only have an hour off the computer. You can also do meal planning in advance for the weekdays to save time and have lunch ready by your break.