How to Make Perfect Plant-based Pizza
Pizza is one of those foods you can easily experiment with, especially if you're making it plant-based. In this post, I'll cover a variety of recipes with different crusts and toppings to show you how to make perfect plant-based pizza.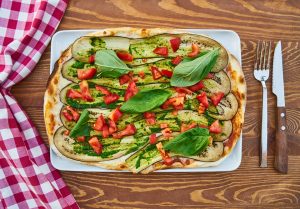 If you think going plant-based limits your options when it comes to pizza, you couldn't be more wrong. If anything, it opens the gate to some pretty wild tastes and textures. You're in for a ride with the following recipes I've compiled from some of my favorite sources for all things plant-based and vegan. 
Plant-based Pizza Recipes
You probably have the usual margarita, Hawaiian, and cheesy pizza recipes in your cooking arsenal already, so let's try to mix things up a little and give you some exciting new recipes to try. 
I'll cover some of the basics of pizza, so you can really impress your family.
Sweet Potato Pizza Crust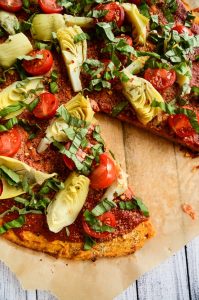 If this recipe proves anything, it's that every component of pizza can be customized. It's not hard to find vegan, gluten-free crust options, but when was the last time you had one made out of sweet potatoes?
You're probably just as fascinated by the idea as I was when I first came across the recipe on Blissful Basil. It uses seasonings and some other pretty delicious ingredients that make it so much more flavorful than your regular flour-based crusts. 
Sweet potatoes are among the healthiest variety of tubers. They are a rich source of fiber, potassium, and vitamins A and C. What's more, their orangish color gives the crust a beautiful color. When you add toppings with contrasting colors, the pizza becomes a work of art. 
So without further ado, here's how you make it.
Ingredients
Sweet potatoes (5 ½ cups or 28 ounces, peeled and cubed)

Gluten-free oat flour (1 ¼ cup)

Almond meal (¼ cup)

Olive oil (1 tablespoon)

Apple cider vinegar (1 tablespoon)

Chia seeds (1 tablespoon)

Dried basil (1 teaspoon)

Dried oregano  (1 teaspoon)

Garlic powder (1 ¼ teaspoon)

Sea salt ( (1 teaspoon)

Chili flakes (1 pinch)

Water (3 tablespoons)
Steps
Steam the sweet potatoes on the stove or in a steamer for half an hour. Check with a fork if they are tender. 

Immerse the chia seeds in a small bowl of water and whisk them gently. Let them sit for about 10 minutes at room temperatures to make chia egg. 

In the meantime, preheat the oven to 400 degrees. 

Take a large bowl and add the steamed sweet potatoes and mash them. 

Pour in all the other ingredients, and combine until it has a doughy texture and consistency.

Take a round perforated pizza pan and line it with parchment paper. 

Pour the dough onto the pizza pan and spread it with a spatula. It may take some time to get it evenly across the pan (around ¼ inch thickness).

Bake it for 25 to 35 minutes until the crust is cooked through and golden brown around the edges.

Add your choice of toppings and sauce and bake or broil for 5 to 10 minutes. 
Recipe courtesy of Blissful Basil. 
Vegan Parmesan Cheese
When it comes to plant-based or vegan pizza, one of the things you might struggle with is cheese. Now, cheese typically is an important ingredient in most pizza recipes, but if you've gone vegan, you can't really have actual cheese on your pizza. However, I've found the perfect cheese alternative to go on your pizzas with this quick and simple vegan parmesan cheese. 
This four-ingredient alternative parmesan cheese has the very same texture and goes great on pizzas, pastas, and really any recipe that calls for parmesan cheese. 
Recipe
Cashews (¾ cup)

Nutritional yeast (3 tablespoons)

Sea salt (¾ tablespoon)

Garlic powder (¼ tablespoon)
The process is pretty simple: add all four ingredients to a food processor and pulse it until you have a coarse powdery texture. You don't want it to be too powdered. 
It can be stored in the refrigerator for several weeks. 
Recipe courtesy of Minimalist Baker.
Homemade Pizza Sauce
Obviously, you're going to need some sauce to spread on the crust. If you're thinking about using a store-bought sauce, you should consider making your own. Making your own sauce at home is pretty easy, and you can make a lot of it and store it in the refrigerator. 
This recipe from Eating Well also suggests freezing tomatoes and using them whenever you need pizza sauce. It can go on virtually any kind of pizza, so whatever kind of pizza you like, you can use this delicious homemade pizza sauce. 
Ingredients
Fresh or frozen tomatoes (5 pounds, cored)

Onions (2 medium, chopped)

Garlic (4 cloves, minced)

Extra virgin olive oil (3 tablespoons)

Tomato paste (2 tablespoons)

Basil (1 tablespoon, chopped)

Thyme (1 tablespoon, chopped)

Oregano (1 tablespoon, chopped)

Salt (1 ¾ teaspoon)

Ground pepper (½ teaspoon)

Sugar (1 to 2 tablespoons, optional)
Steps
(Fresh tomatoes) Make a small cross cut on the bottom of the tomatoes and add them to boiling water and let them stay in that water until the skin loosens. Then transfer them to a bowl with ice. Peel the tomatoes with a paring knife.
(Frozen tomatoes) Take one tomato at a time and run it under hot water, removing the skin. Thaw the peeled tomatoes in the microwave or refrigerator and chop them (keep the juice). 
Take a dutch oven and add the oil. Turn up the heat to medium and add in onions. Cook for 4 to 6 minutes or until they are brown. 

Add the tomatoes, any juice, and all the remaining ingredients (except tomato paste). 

Bring it to a boil and let it simmer for about 2 hours on low heat.

Adjust the seasoning as it simmers.

Transfer the sauce to a blender and add in the tomato paste and blend until it has a smooth liquid consistency. 
Recipe courtesy of Eating Well. 
1. Pizza with Sun-Dried Tomatoes, Red Onion, and Olives
Now that we've covered the basics of how to make perfect plant-based pizza, let's get down to some recipes. Now this one is my absolute favorite as it's creamy, rich, but also healthy. What more could you ask for?
The flavors are very well-balanced as the olives and tomatoes balance the creaminess with their saltiness and texture. 
Here's the recipe:
Ingredients
Frozen spinach (1 pack or 10 ounces, thawed)

Sun-dried tomatoes (½ cup, oilless)

Tofu (1 12-ounce pack, extra-firm silken)

Yellow Onion (1 medium, diced)

Red onion (½ medium, diced)

Garlic (2 cloves, minced)

Kalamata olives (1 cup, pitted)

Nutritional yeast (2 tablespoons)

Dill (1 tablespoon, dried)

Whole-grain pre-cooked pizza crusts (2 12-inch)

Sea salt and fresh ground pepper to taste
Steps
First of all, take sun-dried tomatoes and soak them in water for about 30 minutes. 

Drain the tomatoes and finely chop them. 

In a blender, puree the tofu until it's smooth and silky. 

Preheat the oven to 350 degrees

Place a clean kitchen towel or several paper towels on your kitchen counter and place the thawed spinach on one end. Roll the towel or paper and twist from the ends so as to squeeze the water out of the spinach. Set the dewatered spinach aside.

Take a skillet and heat it over medium heat. Add the yellow onion and saute for a bit. Add water as needed (1 to 2 tablespoons).

As the onions soften, add the garlic and dill and cook for another minute. 

Now add the spinach, purred tofu, and nutritional yeast. 

Season with salt and pepper and cook for about 2 minutes, remove from heat. 

Place pizza crusts on a pizza stone or baking paper and layer on top the spinach mixture, and spread evenly. 

Top the spinach mix with red onion, olives, and sun-dried tomatoes. 

Bake for about 15 minutes or until the edges are brown. 
Recipe courtesy of Forks Over Knives.
2. Vegan Pepperoni Pizza
Pepperoni pizza is an all-time favorite for many, but what do you do if you're vegan? Yes, there are plant-based meat alternatives that you can use as pepperoni on your pizza, but I'm not a big fan of processed foods. This is why I bring you this whole-food plant-based pizza recipe that uses zucchini as pepperoni. 
The spiced zucchini may not taste exactly like pepperoni but it sure does taste delicious, and isn't that what matters at the end of the day for your taste buds?
This pizza recipe also has an Asian influence as the zucchini slices are marinated in sambal oelek, which is an Indonesian chili paste. You can find it in any Asian grocer or even in the spices section of many supermarkets. 
You'll need one to two zucchinis depending on the size. Here's the recipe for the zucchini pepperoni:
Slice the zucchini thinly.
Take a baking dish and add tamari sauce and balsamic vinegar. Add the zucchini and mix it with sauces. You can also add sambal oelek, which is optional. Two tablespoons of each are more than enough to cover the slices. Marinate it overnight, so the slices can absorb all the flavors. 
You can use this zucchini pepperoni as a topping on a homemade or store-bought whole-flour crust with homemade pizza sauce and vegan parmesan cheese. 
3. Gluten-Free BBQ Chickpea Pizza with Ranch Dressing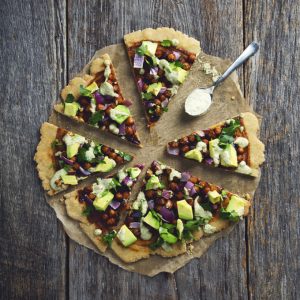 Now here's a pizza that's a blast of flavor and textures, using chickpeas, bbq sauce, avocados, and ranch dressing. If you think vegan pizzas can be boring, this recipe will change your mind. 
It does take time and effort, as you make the crust and the dressing yourself, but in the end, it's totally worth it. 
Ingredients
Crust:
Sorghum flour (1 cup)

Brown rice flour (1 cup)

Tapioca flour (1 cup)

Xanthan gum (¾ teaspoon)
BBQ Chickpeas:
Cooked chickpeas (One 15-ounce can, rinsed and drained)

Bbq sauce (⅓ cup and som extra for the crust)

Garlic (1 clove, minced)

Extra-virgin olive oil (2 teaspoons)
Toppings:
Red onion (½ medium, chopped)

Avocado (1 small, pitted and chopped)

Parsley (2 handfuls, chopped)
Ranch Dressing:
Cashew nuts (½ cup, soaked for 2 hours, and rinsed and drained)

Nutritional yeast (2 tablespoons)

Apple cider vinegar (2 tablespoons)

Water (¼ cup)

Dried chives (1 tablespoon)

Garlic powder (½ teaspoon)

Onion powder (½ teaspoon)

Dried dill (½ teaspoon)

Dried parsley (½ teaspoon)

Sea salt (½ teaspoon)
Steps
Oil a large mixing bowl

Add the flour mix, yeast, and salt, and mix with a stand mixer with a dough hook attachment.

Add some water and olive oil and mix at medium speed for 3 to 5 minutes. 

You can add more flour as needed if the dough is still too sticky. 

Once it's right, move it to the oiled mixing bowl and brush the top with oil and set it aside in a warm place for an hour. 

In the meantime, prepare the ranch dressing by combining all the ingredients in a blender and mixing them until smooth. 

For bbq chickpeas, add all the ingredients for that into a mixing bowl and stir, until the chickpeas are completely coated. Let it marinate for a while. 

After the dough's had an hour to rise, spread it on parchment paper and roll out two crusts of 12 inches each. 

Preheat the oven to 450 degrees.

Brush the crust with bbq sauce. Spread the chickpeas and chopped red onions. Transfer them to a pizza stone or pan and bake for 15 to 20 minutes. 

Remove the pizza and top with chopped avocado and parsley. Drizzle the ranch dressing on top.
Recipe courtesy of Pickles and Honey.  
Wrap Up
Now you know how to make perfect plant-based pizza. Using these amazing recipes, you can make your own or go with the full recipes that I've included. All these recipes are completely plant-based, and most importantly, completely healthy. 
You can use ready-made frozen pizza crusts, but make sure that they are whole-flour. However, if you can spare some time, making fresh dough and crust is always the best option. Your pizza will taste even better.