How to Make Lentils in Instant Pot
Lentils can become your next go-to for a quick weeknight dinner. If you avoid adding lentils to your shopping list because they take time to cook, you can always cook them in a pressure cooker in a matter of minutes. So how to make lentils in instant pot?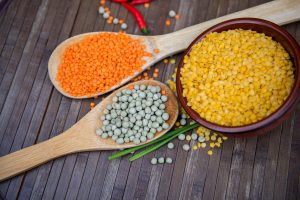 There are tons of recipes online, most of which use similar ingredients. However, the gist is that you get a nice bowl of lentil soup or even curry using only an instant pot. It doesn't cost a lot, tastes delicious, and keeps you healthy. 
Before we get to the instructions on how to make lentils in an instant pot, let's talk about the humble lentils a bit. 
What are Lentils?
Lentils are often confused with legumes. They are actually a kind of legume, as these are the edible seeds of legumes. 
There's quite a lot of variety in lentils, with each offering a unique taste. Many lentil recipes call for different variations together, which only intensifies their flavor and, of course, the health benefits.
Here are some of the common types of lentils:
French Green Lentils:

These green lentils (also called Puy after Le Puy region of France) are peppery in flavor and used mainly in soups and curries, especially spicy ones.

Brown Lentils:

These are the most common variety of lentils and are used in many parts of the world. The color can vary, but it's generally a tone of brown. 

Orange/Red Lentils:

These are actually dehusked brown lentils.

Yellow Lentils:

These are split and dehusked mung beans. Yellow lentils are often cooked with red lentils, especially in South Asian cuisine. 

Beluga:

Beluga or black gram lentils are often used in salads.
Are Lentils Healthy?
Lentils are one of the most underrated plant-based foods. These humble, inexpensive legumes are packed with nutrition. You'd be surprised to see how diverse the nutrients in lentils are.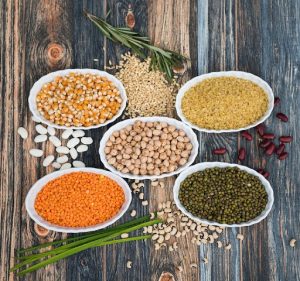 From B Vitamins to zinc, they contain some of the most important vitamins and minerals.
The star nutrient in lentils is protein. Yes, one-fourth of the lentils is pure protein. That essentially makes them the cheapest meat alternative (plant-based protein). If you're trying to build muscle mass or keep a strict check on your protein intake while on a plant-based diet, you should include more lentils.
Other than that, lentils are also rich in iron, which is great news for vegans and those who have or are at risk of anemia. 
Lentils can also improve your digestion system as they contain fiber. One cup of lentils can provide as much as 15 g of fiber. Imagine what it can do for your gut health, especially if you struggle with gut problems like GERD and IBS. 
What's more, the polyphenols in lentils may help improve blood sugar levels in patients with type II diabetes, as indicated by this International Journal of Molecular Sciences study. Similarly, another study researching the effects on the cholesterol levels of diabetic patients found lentils can help reduce bad cholesterol. 
Obviously, when we talk about blood sugar and cholesterol, it's understandable that lentils are also heart-healthy, and the science backs that too. The same International Journal of Molecular Sciences research study also suggests that lentils can impact positively on the risk factors of heart disease. 
Why Cook Lentils in Instant Pot?
Cooking lentils in an instant pot is a great idea because it saves time and makes the whole process so much more convenient. There's no stirring or checking the lentils constantly, as you can just seal the lid and get to it once it's done. 
What I find best about cooking lentils in an instant pot instead of on the stove is that they just hold their texture much better in the instant pot. Maybe it's the speed of cooking that renders a firmer texture even though they are fully cooked. 
Also, you don't really need to soak lentils beforehand, so it really is an instant recipe. That said, some preparation is still needed, mostly with the other ingredients. 
You can use the instant pot to make a lentil soup, curry, or stew. Lentil soups are more common when it comes to using a pressure cooker, which is great for those chilly winter days. You can just put everything in the pot and enjoy a nice, warm bowl of soup. 
How to Make Lentils in Instant Pot?
So there are different recipes for lentils you can try out using an instant pot. I believe most recipes where cooking lentils is involved can be done with an instant pot. However, I find it best to prepare a lentil soup in the instant pot. The results are simply much better. 
While you may think a lentil soup is a cozy, winter food, you can really just make it any time of the year. As I said, it can make a great weeknight dinner. And not just for you but for others as well if you live with family or roommates. You can even include it in a dinner menu for guests even if you think it's not fancy enough for a dinner party. 
Another great advantage of cooking lentil soup for guests is that you can make a generous amount at a fairly low cost. Plus, it freezes well and tastes even better when thawed and reheated. So it really is a win-win dish for anyone looking to cut time and enjoy something delicious and healthy. 
Cooking lentils in an instant pot drastically reduces time, especially when cooking with green or brown lentils that typically take longer than, say, red or yellow lentils. You can cook them in the instant pot in 10 to 15 minutes. If you add in the prep time, it shouldn't take more than 20 minutes total. 
Lentil Soup
Ingredients
The ingredients for this lentil soup are enough for two people. If you're cooking for more people, simply increase the ingredients proportionately. 
Here's what you need:
French green lentils (1 cup)

Garlic (3 cloves, minced)

Diced tomatoes (1 can or 14.5 ounces)

Onions (1 cup, chopped)

Carrot (½ cup, chopped)

Celery (1 cup, chopped)

Salt and cracked black pepper (1 teaspoon each or to taste)

Vegetable broth (1 14.5 ounce can or 2 cups) 

Fresh parsley for garnish
For lentils, you can also work with brown or red lentils. However, red lentils will require even less time than green lentils and may not have a very defined texture in the end. In fact, they might turn out more soupy. 
Steps
Activate the sauté settings of the instant pot and cook the onions with a few splashes of water until they are soft (you can use a bit of olive oil if you like)

Add the garlic, carrots, and celery, and sauté those for a few minutes with the onions. 

Now, press the cancel button to end the sauté mode.

Pour in the lentils and stir.

Add the can of diced tomatoes and the vegetable broth (if you don't have vegetable broth, you can use three cups of water)

Add the salt and pepper and give it a mix.

Now, put on the lid and close it, and manually set it up for cooking at high pressure for 15 minutes.

After 15 minutes, let the pressure release naturally, which should take less than 10 minutes. 

Give it a stir once again and pour in a large bowl. Garnish with parsley. 
You can enjoy this soup with some crusty bread or even a side of salad. However, bread beats the salad in this case. 
Lentil Curry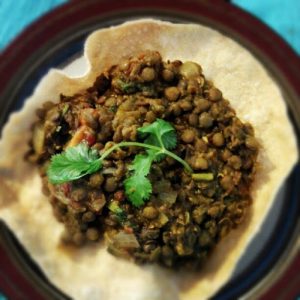 I have another great and incredibly easy lentil recipe up my sleeve. If you don't want something heavy like a soup, you could go for this easy lentil curry, which is basically just lentils cooked in the instant pot. It could serve as a lentil dinner recipe with some rice or flatbread (naan or chapati if you want to go proper Indian style). 
Ingredients
Brown or green lentils (1 ½ cup)

Onion (1 small, finely chopped)

Garlic (3 cloves, minced)

Ginger (1 tablespoon, minced)

Smoked paprika (1 teaspoon)

Oregano (1 teaspoon)

Vegetable broth (1 14.5 ounce can or 2 cups)

Salt to taste

Cilantro for garnish
Steps
Sauté the onion with a few tablespoons of water.

Add the garlic and ginger. 

Now add the lentils and give it a stir

Pour in the broth and add all the spices

Close the lid and set the instant pot to cook the lentils at high pressure for 10 minutes.

Once cooked, vent the steam carefully. 

Pour out the lentils in a bowl and garnish with cilantro. 
You can also top it with some fresh lime if you want to add a citrusy flavor. You'll see this recipe comes out a bit dry, unlike the soup, which has veggies and tomatoes. And that's what's great about this recipe, as you get to enjoy the lentils and their flavor, elevated by the broth and spices. 
You can also try other Indian curry recipes that use lentils in an instant pot. 
Wrap Up
Now that you've learned how to make lentils in instant pot, you're good for your weekly lentil fix. The leftover soup or curry can easily be frozen in an airtight container. It's best to consume it within a week. When reheating, do it in a microwave or even on a stove top, especially the soup, as it's more liquidy. 
Lentils have long been considered a poor man's meat because they are a cheap source of protein. However, everyone, poor or rich, should include more lentils in their diet simply because of the many health benefits they provide.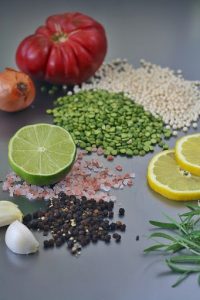 You May Also Like: WHAT ARE THE SIDE EFFECTS OF A PLANT-BASED DIET?>>CLICK HERE!