How to Eat Vegan at McDonald's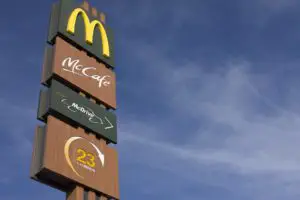 The last few years have seen the fast-food industry adapting to the needs and tastes of the vegan population all around the world. McDonald's, being one of the biggest fast-food chains globally, has been on the radar of vegans for a while now. 
So how to eat vegan at McDonald's? Can it be the 'happy meal' for vegans?
Well, if you're in the US, you're going to be disappointed by the vegan options or the lack, thereof, at McDonald's. That said, change is around the corner!
But let's answer the most frequently asked question first.
Are McDonald's Fries Vegan?
Fries, as they are made from potatoes and often fried in vegetable oil, should be technically vegan. However, unfortunately, McDonald's fries aren't vegan!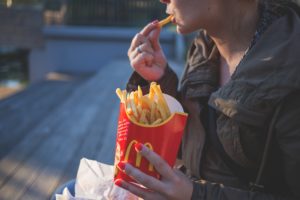 Why? That's because they use natural beef and dairy flavors for the fries, which apparently gives the fries their distinctive flavor. They reportedly switched to pure vegetable oil for fries but later changed back to those non-veg ingredients because customers weren't happy. 
So how exactly do they get those milk and beef flavors? They use animal lard, which comes from cows. 
The sad thing is that a lot of McDonald's chains in other countries are offering vegan fries by using vegetable oil only. So if you want to eat vegan fries at a McDonald's, better drive up to Canada. 
What is Vegan at McDonald's?
Now that we know that fries really aren't suitable for vegans, or even vegetarians, what else is vegan at McDonald's. So let's cover each vegan item on the menu one by one (spoiler alert: there aren't many). 
Fruit & Maple Oatmeal
McDonald's does have a healthy vegan-friendly breakfast option in the form of fruit and maple oatmeal. While it's not vegan by default, it can be made vegan. 
In addition to the fruits, oats, and maple syrup, this oatmeal also contains light cream. You can just ask them to hold the cream, so your oatmeal is completely vegan. 
Truth be told, it's delicious oatmeal with a generous serving, so a great option for a healthy breakfast on the go. 
Salads
Salads at McDonald's aren't always vegan, but they are the closest thing to vegan on the menu. The side salad can contain cheese or non-vegan dressing, so make sure to not include those items when ordering that. 
The other popular choice is the Southwest Chicken Salad, which, as the name tells, contains chicken. You can ask them to hold the chicken and the cheese and use a vegan dressing.
This salad contains beans, poblano peppers, corn, and fresh cilantro, so it's a viable option for lunch at McDonald's. 
Vegan Salad Dressings: In the US, McDonald's uses Newman's Own dressings. Of those options, Creamy French and Balsamic Vinaigrette are vegan. 
Apple Pie and Apple Slices
McDonald's added apple slices to its menu back in 2004 in an effort to promote healthy eating, as many fast-food chains were under fire for high rates of obesity. They are part of the menu as a side to this day, and McDonald's sells 10 percent of all apple slices in the country. 
Similarly, the baked apple pies are also vegan. It can be your dessert of choice at McDonald's as the crunchy pastry and the cinnamon-flavored apples inside are a delicious delicacy. 
Dipping Sauces
Not that you'll have something vegan to dip in them, but it's worth mentioning that some of the dip sauces at McDonald's are vegan-friendly. This includes BBQ sauces and Sweet and Sour. 
Drinks
The sodas, juices, and Minute Maid slushies are all vegan. Sadly, there are no shakes or ice creams with plant-based milk alternatives. 
What is McPlant?
Understandably, the choices for vegans at McDonald's US are almost non-existent. You can pretty much just have breakfast, as there's not even a lackluster burger with just lettuce and tomatoes like that at In-n-Out.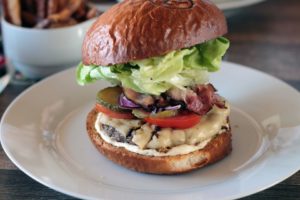 With all that said, McPlant may change that soon enough. Earlier this year, McDonald's launched the McPlant burger in Denmark and Sweden. This came after the fast-food giant signed a global agreement with the homegrown meatless burger company Beyond Meat. 
The McPlant burger contains a pea-protein patty, along with the usual burger veggies like lettuce, tomatoes, onions, pickles, and sauces. It does contain regular cheese and mayonnaise, which makes it non-vegan, but those can be avoided. 
The milestone is that it contains a patty that's totally vegan. However, the burger has only been tested in the Scandinavian market, which already has relatively better vegan options. But there's hope that the McPlant could also hit the US stores, given how other chains have adapted to plant-based lifestyles. 
Vegan McDonald's in Other Countries
It's not surprising that McDonald's chose to test the McPlant in Scandinavia, given that the franchise there already is comparatively more vegan-friendly. In fact, the US McDonald's is pretty much the only lacking in decent fully plant-based menu items.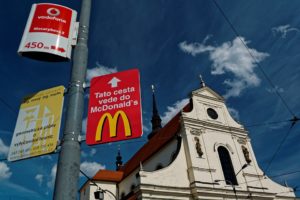 In Sweden, they have falafel nuggets, while in neighboring Norway, they sell vegan vegetable nuggets. In Germany, they have what they call a Big Vegan, which is obviously the vegan counterpart of the flagship Big Mac. 
India, which is one of the most vegan-friendly countries in the world, also has some good vegan/vegetarain options on the McDonald's menu. For instance, the McAloo Tikki is a potato patty-based sandwich with classic Indian flavors. 
Even McDonald's in the UK has a Veggie Wrap and a Vegetable Deluxe Sandwich. So if you're traveling in any of these countries, you can stop by at a location and get one of these things. 
The company is also introducing vegan menu items in China, adding plant-based meat options (vegan pork) for breakfast in many Chinese cities. 
Wrap Up
So how to eat vegan at McDonald's? Well, just order oatmeal or salad with apple slices and apple pie, as those are pretty much all your options. Even the fries aren't vegan!
It's clear that McDonald's US needs to step up its game and cater to the vegan consumers, as the numbers are rising. It has managed to adapt in other countries, so there's no reason why it can't do the same at home. 
Here's hoping the McPlant and vegan fries become a reality soon!