How to Make Applesauce Muffins Vegan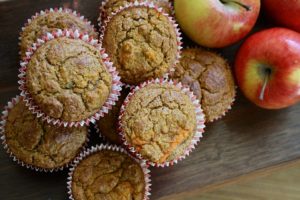 Muffins are the underrated staples of the dessert and snack world. That's probably because a lot of people assume they are not that healthy as they are sweet and high on carbs. But if you know to make applesauce muffins vegan, you know how to make them healthy. 
In this post, you'll find the perfect recipe for making vegan applesauce muffins that are gluten-free, nut-free, and oil-free, so basically, the healthiest version of muffins you can find anywhere. And apples are a great choice for muffins as they are not overly sweet and mix well with the batter. 
These applesauce muffins can be your breakfast go-to or dessert/snack. Kids will love them, and adults will eat them guilt-free. Need any more convincing? 
Why You Will Love These Applesauce Muffins?
You've probably had applesauce muffins, as well as many other muffins, in your lifetime. But what makes these so good? 
Well, for starters, they are super healthy. When it comes to baked goods, it's all about the ingredients and the proportions. Just avoiding extra sugar, white flour, and oil can make carb-rich muffins a healthier option to munch on. 
What's more? These apple muffins can even be frozen and used for breakfast or snack whenever you crave them. And, of course, they are 100 percent vegan, so anyone can enjoy them. 
If you have a big family, especially kids, you can make a big batch of these and freeze. You can also put one or two in your kid's lunch. And if you're running late for work yourself and don't have time for breakfast, just grab one for yourself with your morning coffee. They taste just as good after thawing and heating. 
Plus, the ingredients are probably lying around in your kitchen already. So it's not one of those recipes that require special ingredients that call for a grocery run. If you're a vegan, you probably have all the ingredients in your pantry already.
Lastly, the recipe isn't difficult at all, so really anyone can make these. Don't worry if you don't consider yourself a baker. It's basically just preparing the batter, putting it in the tray, and leaving them in the oven for the magic to happen. Sounds easy and quick, right?
What Kind of Apples to Use for Applesauce Muffins?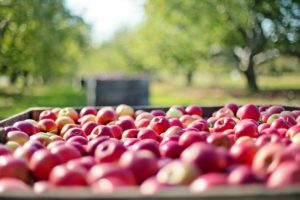 For the applesauce muffins, you can use any kind of sweet apples. Golden delicious and fuji are the best choices for these muffins. The reason why you should go with the sweet variety is that these sweet apples will give the muffins natural sweetness, eliminating the need to add any sugar at all (but you can add if you want). 
You're probably thinking, what about Granny Smith apples? Aren't those the holy grail of apple pies and muffins? You're absolutely right, they are popular for the classic American apple pies and can be used for these vegan applesauce muffins. 
Those apples have a tarty flavor, which some people actually prefer, so if you have those lying around, use them by all means. And it doesn't hurt that Granny Smiths are among the cheap variety of apples, so you can go generous with the amount. 
What are the Best Tips for Making Applesauce Muffins?
Even something as simple as a muffin can be made even better with some pro tips. If you've been baking muffins for a long time, you probably already have these tips handy. But on the off chance, this is your first time making applesauce muffins or muffins, in general, these tips would surely help. 
Use Unsweetened Applesauce
So for this particular recipe, you can use any store-bought applesauce, but make sure that it's unsweetened. The reasons for that are simple. Sweetened sauces contain refined sugar, which beats the purpose of making healthy muffins. Plus, even the unsweetened one has natural apple sugars, which should be enough to give the muffins a sweet taste.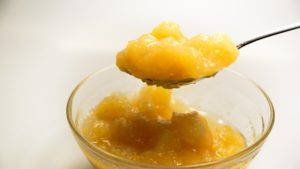 Now, if you cannot find unsweetened applesauce in a store near you, perhaps you can make it at home from scratch. It's not that difficult as you pretty much just need apples and some lemon juice (oh, and some water too). 
Let the Batter Rest
Now, this tip can make all the difference. Just letting the batter sit for 10 to 15 minutes can give it a thick consistency. It just allows all the ingredients to mix well. 
You probably have heard the same tip about pancake or waffle batter as well that letting it sit for 10 minutes can result in a better texture. What are 10 minutes if it means your muffins will be extra delicious and perfect?
Don't Overfill
When placing the batter in the tray, don't go overboard with the mixture because the muffins will rise. The baking powder allows the muffins to expand and rise, becoming fluffy and round. Putting too much batter may result in odd-shaped muffins that might not even cook through thoroughly. 
If you're worried about being consistent with the portions for each muffin, you should use a trigger ice cream scoop. Not only does it make it convenient to pour the batter into the muffin liners, but it also makes portions equal, so you have uniform muffins in every batch. 
Store in Airtight Container
Whether you're just storing them for the day, putting them in the fridge, or freezing them for the week, use an airtight container. This will keep them fresh for longer. You can refrigerate these applesauce muffins for seven days and freeze them for even longer. 
How to Make Applesauce Muffins?
Now, let's get to the real deal, which is making these delicious applesauce muffins. The recipe basically comprises making the batter, putting it in the tray, and baking. That's it!
This particular recipe uses oat flour as it's gluten-free flour. However, if you're not too particular about gluten, you can also make these with whole wheat flour. 
Oat flour is easily available in most supermarkets. You can also make your own as all you need is rolled oats, ground to powdery form in a food processor. 
You will also need unsweetened apple sauce, which you make from scratch with the same apples that you'll be adding to the muffins or buy from the store. 
While the core ingredients are pretty simple and easily available, you can add your own twist to it. For instance, if you want to make these even more breakfast-friendly, you can also add some rolled oats in addition to the oat flour. 
You can also add walnuts or a top with some blueberries or raisins. Feeling a bit more experimental? How about some coconut shavings? 
But let's not forget that the hero of these muffins is that delicious applesauce and, of course, the actual apples. 
Here are the main ingredients of the applesauce muffin recipe:
Diced apples

Plant-based milk (almond is great)

Salt

Cinnamon

Brown sugar (optional)
How to Make The Batter for Applesauce Muffins?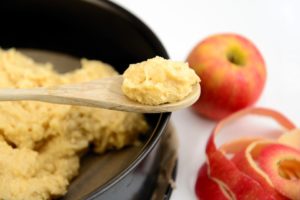 The main part of the recipe for applesauce muffins is making the batter. For that, you should mix the dry ingredients in one bowl and the wet ingredients in another. Then, mix the two to create the batter. 
Take a large bowl and add all the dry ingredients: oat flour, baking powder, baking soda, salt, cinnamon powder, and sugar (if you want them extra sweet). 
In another medium-sized bowl, mix the wet ingredients: applesauce, vanilla extract, plant-based milk, and vinegar. Whisk it thoroughly to mix and pour it into the bigger bowl with all the dry ingredients. Stir with a whisk to mix the batter until you get a thick consistency and there are no clumps. 
Now, you can toss in the diced apples and any other ingredients you want to add, like walnuts or raisins. Give it a good mix once again. 
The batter is all ready, and you can let it rest for about 10 minutes. 
How to Bake Applesauce Muffins?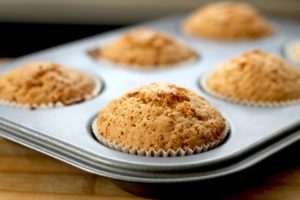 To bake the applesauce muffins, preheat the oven to 350℉. Take a muffin tray and line with muffin liners. If you're using one of those silicone ones, then you don't necessarily need to add the liner. 
Use a spoon or ice cream scoop to add the batter to the tray, one by one. Don't fill them to the top. You should leave a quarter-inch of the liner at least as the muffins will rise up. 
If you're adding any toppings, you can sprinkle them on top. Now, put the tray in the oven and bake for 25 minutes. 
After 25 minutes, you can do the toothpick test to see if they are done. If it comes out clean, they are ready. If not, give it another two minutes. 
Once you have removed them from the oven, let them sit for a bit and cool before taking them out of the tray. 
Your delicious vegan applesauce muffins are ready!
More Vegan Muffin Recipes
If you like the applesauce muffin recipe, you'll surely like these vegan muffin recipes as well. 
Vegan Blueberry Muffins
You've probably had many blueberry muffins in your life, but these ones will taste a little different. This recipe calls for lemon zest and cardamom, which gives the blueberry muffins a unique taste. 
The other ingredients include the good-old oat flour and millet. You can use either fresh blueberries (which is obviously a better choice) or frozen. Oh, and this recipe also uses some applesauce, so your applesauce bottle can be used to make these too. 
Another ingredient that makes these muffins naturally sweet is dates. Yes, the blueberries may be the star, but it's the dates that give it the quintessential sweetness. 
Want to give this vegan muffin recipe a try? Find the full recipe at Forks Over Knives. 
Chocolate Muffins
If you have kids in the house, you have got to try this vegan, gluten-free chocolate muffin recipe with the goodness of bananas and the crunch of chocolate chips. What's not to love about that?
These one-bowl muffins are super fudgy and incredibly easy to make, just like the applesauce ones. It also has a surprise ingredient: tahini. Don't worry though, it's masked by the extra chocolatey flavor, but it does add a hint of nutty flavor. It's one of those things you'll have to try to know. 
It can be made oil-free too, but even with the avocado oil, these are not unhealthy. The maple syrup also gives these the sweet flavor. These aren't your run-of-the-mill chocolate muffins. 
Find the detailed recipe at Minimalist Baker. 
CLICK HERE to read more about WHAT CAN I EAT ON A PLANT-BASED DIET?
Photo courtesy of Minimalist Baker
Vegan Applesauce Muffins
A delicious and easy muffin recipe that uses applesauce and real apples and is completely vegan, gluten-free, and dairy-free. These can be a great breakfast or snack and can be made ahead of time.
Ingredients  
2

cups

oat flour

1/2

cup

apples

diced

1

tsp

baking soda

1

tsp

baking powder

1

tsp

cinnamon powder

1 1/2

cup

unsweetened applesauce

1

tsp

vanialla extract

1

tsp

apple cider vinegar

1/2

cup

plant milk

1/2

tsp

salt
Instructions 
Preheat the oven to 350 degrees.

Wash and remove the core of the apples. Dice them into small pieces.

In a large bowl, add all the dry ingredients: flour, baking powder, baking soda, salt, cinnamon, and brown sugar (optional).

In another medium bowl, add and mix all the wet ingredients: applesauce, vanilla, vinegar, and plant-based milk. Whisk and mix all of them.

Pour the wet mixture into the dry ingredients in the large bowl and whisk until all ingredients are combined. Add the diced apples and mix again. Let it sit for 10 minutes.

Take a muffin tray and line with the muffin liners. Use a spoon or ice cream scoop to pour the mixture into the tray one by one.

Place the muffin pan in the oven and bake for 25 minutes at 350 degrees. Test the doneness by inserting a toothpick.

Remove from oven when done and let the muffins cool before serving.