Can Vegans Eat Takis?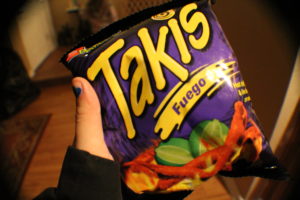 Takis are delicious snacks with a combination of zesty tastes and heat, resulting in a satisfying snack. They are well-known for their distinct look and wide range of flavors. Can vegans eat Takis?
Some Takis varieties are vegan, while others are not. There are now three vegan varieties, such as Takis Fuego, that are dairy-free and contain no additional animal components. Four of their flavors contain dairy, milk, cheese, or eggs, yet they are still vegetarian-friendly. 
What Are Takis?
Takis is a famous chip brand noted for its unique taste and shape. They are a Mexican brand of corn tortillas.
Furthermore, the shape is similar to taquitos, earning them the nickname Takis. Takis made a big splash in the United States in the early 2000s, and they have been a popular snack option ever since.
They come in a variety of flavor combinations. Fuego can be your go-to option if you like your food hot and spicy. At the same time, Nitro is a good option if you want a subtle flavor. There are around 18 different varieties of Takis to select from.
Are Takis Vegan?
There are several snack brands on the market now that attempt to be vegan-friendly. Takis, on the other hand, is not one of these food brands. Vegan tastes are not specially created by the company.
Some of the Takis flavors are vegan, which is fantastic news for all vegan spicy chip enthusiasts. While some of their tastes are not vegan due to the presence of milk or eggs, it is important to read the ingredients list before purchasing it.
Takis' core components, according to Barcel, the parent company, are vegan. Additives, spices, and tastes are among the non-vegan ingredients. Milk and eggs are added to several of the flavors.
Nonetheless, keep a watch out for Takis which contains dairy. There is already a lot of uncertainty over whether Takis are vegan or not. Though all of the tastes are prepared using the same fundamental formula, it is crucial to pay close attention to the spices. 
What Are Takis Made of?
Takis come in a variety of flavors, depending on where you buy them. Although the tastes are similar, the ingredients in each type are somewhat different. The Chipotle Ranch Takis, for example, include buttermilk, but the Original Fuego Takis do not. 
The flavors and colors vary by taste, but the core formula remains the same. Following are the ingredients commonly found in Takis:

Corn Masa Flour (Processed With Lime), 

Seasoning [Artificial Color (Red 40 Lake, Yellow 6 Lake), Baking Soda, Citric Acid, Chili Pepper (Chile), Disodium Inosinate, Disodium Guanylate, Hydrolyzed Soy Protein, Onion Powder, Maltodextrin, Monosodium Glutamate, Natural and Artificial Flavors, Salt, Soybean Oil, Sugar, Tbhq (Antioxidant), Yeast Extract].

Vegetable Oil (Canola Oil And/Or Palm And/Or Rice Bran Oil And/Or Soybean), 
What Are Non-Vegan Ingredients in Takis?
Being vegan is about reducing animal suffering as much as possible. Keep an eye out for the following non-vegan ingredients:

Caseinate de sodium (Milk)

Cheese

Colors, both natural and synthetic (Milk and Egg)

Whey (Milk)
On the other hand, Red 40 is a sort of food coloring found in chips and sweets. It is even in certain cosmetics and beverages. This dye is not manufactured from animal by-products; it is one of the colors that is tested on animals. As a result, many vegans avoid it, which is understandable.
Are Takis Gluten-Free?
Gluten is a protein found in most wheat products that function as a "glue" to keep barley, bulgur, durum, farro, Kamut, rye, semolina, and wheat together. 
Gluten, in the form of gluten or wheat derivatives, may be found in many processed foods. Flavorings, binders, and other additives are examples of these. These chips "may contain milk, egg, and wheat," according to a warning on their label under the ingredients list. 
When we look at the components, we notice yeast extract, which is a gluten-derived substance that is often sourced from barley. Takis chips should be avoided if you are on a gluten-free diet. 
Are Takis Keto?
Takis are not keto-friendly since they are a high-carb manufactured snack with harmful additives like sugar, canola oil, and TBHQ in them. 
Moreover, Takis are heavy in carbs, fat, and salt but deficient in essential nutrients. Obesity, heart disease, and type 2 diabetes are all linked to eating a lot of ultra-processed foods. 
Some Takis variations are quite hot, and some people find that spicy meals irritate their stomachs. If you consume a lot of spicy meals, you could have heartburn and indigestion.
What Are Popular Takis Flavors?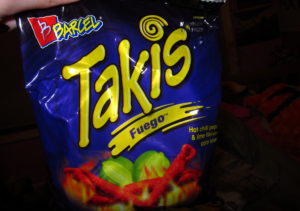 In the United States, Takis is a popular snack. It is a spicy, roll-shaped snack based on the classic Mexican taquito. Following are the popular Takis flavors:
Takis Crunchy Fajita 
The ingredients list consists of a pinch of pepper, nacho cheese, salt, corn, and most likely a combination of cumin, chili powder, and paprika.  
Takis Fuego
This flavor of Takis is a bright crimson, hand-turning taste that serves as the brand's flagship. It does not have the most spice or lime, but it does have the most well-rounded taste profile of everything in the Takis range.
Guacamole
This flavor consists of a powerful blast of jalapeno, making it the only Takis flavor that can be described as fresh. These Guacamole Takis have unique avocado and tomato tastes. It is difficult to tell the difference between them and guacamole.
Final Thoughts
Takis is a delicious, crunchy snack. If you are looking for a spicy, well-seasoned snack, a bag of Takis corn chips is sure to satisfy you.
Keep in mind that not all Takis chips are vegan. The company has not made a point of distinguishing between vegan and non-vegan attributes. It also does not offer a distinct range of vegan options. 
Some Takis, like the Fuego and Nitro flavors, are vegan-friendly since they do not include any obvious animal components like milk or eggs. However, the remaining flavors include animal products, so read the ingredient list carefully before purchasing.