10 Healthy Snacks for Diabetics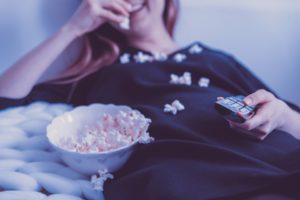 Diabetes comes with serious lifestyle changes, but that doesn't mean you can't enjoy a delicious snack. In this post, I'll list 10 healthy snacks for diabetics that are fully plant-based, low calorie-dense, and simply yummy. 
Whether you're watching a movie at home or just feeling a little hungry before dinner, these snacks will curb your cravings and not drastically impact your blood sugar levels. In fact, some of them even have great health benefits like controlling bad cholesterol. 
Make sure to pick some of these on your next trip to the store or add them to your grocery order. 
Roasted Chickpeas (Garbanzo Beans)
Chickpeas or garbanzo beans are a staple in a plant-based diet. They are a great source of protein and fiber. While you can use them in myriads of salad, lunch, and dinner recipes, they also make quite an appetizing snack, especially when roasted. 
These are readily available in every supermarket and often come in several flavors. The beans are crunchy with lots of seasoning that packs quite a punch. 
Plus, these are quite filling, so perfect for those untimely cravings of hunger where you don't want to consume a lot of calories but also want to extinguish the craving. 
By the way, a Nutrients study found chickpeas to help with the treatment of type II diabetes. 
Calories: 120-140 kcal per oz.
Recommendations: Biena Chickpea Snacks (Sea Salt), The Good Bean Crunchy Chickpeas, Draje Chickpeas Unsalted
Dried Fruits
Want something sweet? Dried fruits are the best option. 
Since these are dried over time, they lose their moisture, and, as a result, the sugars concentrate. So even a few of these will satisfy your sweet tooth. 
Also, it's best to consume these in moderation because of the high sugar content. But you'll have a hard time doing that as these are simply delicious. Make sure there's no added sugar in packaged dehydrated fruits. 
Now, you can find many dried fruits, including apricots, prunes, figs, and blueberries.
Calories: Varies (High-Calorie Density)
Recommendations: NATTIERA Premium Dried Strawberries, Terrasoul Superfoods Sun-Dried Apricots, Terrasourl Suprfoods Turkish Calimyrna Figs
Dark Chocolate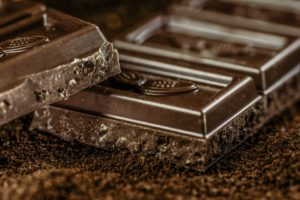 Did you know that dark chocolate may reduce the risk of heart disease? One study of 470 older men found that dark cocoa could reduce the risk of heart disease by 50 percent over a decade and a half. 
Other than that, dark chocolate also has many other proven benefits, including lowering cholesterol. All these benefits are highly pertinent for diabetics who are at an increased risk of heart disease. 
Calories: 155 kcal per oz.
Recommendations: Trader Joe's Belgian Dark Chocolate Bar, JoJo's Dark Chocolate Bites
Popcorn
Did you know that popcorn is considered a whole nut? Well, yes, it is, which makes this salty snack essentially a whole food. 
Popcorn, in general, is a healthy snack, but not always. Those microwave corn packs are not the healthiest choice as compared with homemade air-popped ones. 
With generous protein and fiber, popcorn will not only taste great as a snack but also help you reach the required intake for these two nutrients. 
Calories: 106 kcal per oz. 
Recommendations: Make your own with this easy recipe!
Edamame
Edamame looks like pods of green peas, but it's actually raw soybeans. It's a very popular snack in Asia and is also becoming a vegan favorite. 
Edamame can also be worked into recipes, especially as a side, but it also serves as a very healthy snack. It's especially great for those with diabetes as it improves insulin resistance. 
You can find them both shelled and un-shelled. Also, you can buy frozen edamame and prepare them at home. 
Calories: 122 kcal per 100 g when cooked
Recommendations: The Only Bean Crunchy Roasted Edamame Beans, 365 Organic Edamame
Trail Mix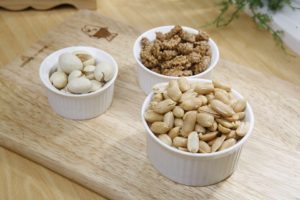 Yes, trail mix can be a great snack for diabetics. You can buy it at a local supermarket or make your own with nuts, raisins, seeds, and dried fruits of your choice. 
However, be cautious, as trail mix can be quite heavy with calories. Make sure to add almonds and walnuts to your trail mix.
Calories: 170+ kcal per serving
Recommendation: Nature's Garden Organic Trail Mix Snack Packs
Tortilla Chips
Tortilla-style chips come in a wide range of sizes and flavors too. However, as a diabetic, you have to be careful with which tortilla chips you choose to snack on. Also, make sure you're opting for a healthy dip (preferably homemade) to go with that. 
In large quantities, they can be fattening and may even raise your blood pressure with their salt content. But if you keep the servings small, you can enjoy them from time to time. 
Calories: 290 kcal per cup
Recommendation: Beanfields Black Bean Chips, 365 Organic Tortilla Chips White Corn
Vegetable Chips
Much like tortilla chips, you have to be cautious when picking veggie chips from the snack aisles. Not all veggie chips are healthy, as some types are highly processed and salty. 
If you can find organic vegetable chips that are actually made of veggies, not processed into chip or straw shape, you can enjoy them guilt-free. 
Calories: 70 kcal per oz.
Recommendation: Brad's Crunchy Veggie Chips
Hummus with Fresh Veggies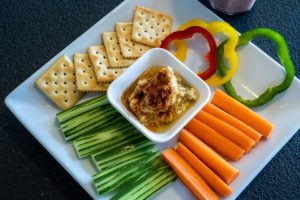 Hummus is a wonder food in the plant-based community with its health benefits and mild flavor that pairs well with almost anything. You can also make a hummus dressing for your salads. 
Instead of enjoying hummus with carbs-rich pita, why not try fresh veggies? Crunchy veggies like carrots and celery will go great with hummus. 
You can make hummus at home, but it can be time-consuming. It's better to buy totally vegan hummus from the store instead. 
It can also be a healthy, economical snack when you're hosting!
Calories: 166 per 100 g
Recommendation: Cedar's Organic Original Hommus
Nice Cream
Since ice cream is not really a healthy option for diabetics, nice cream can make their day. 
It's a dairy-free ice cream made with a base of frozen bananas. You can make it in many different flavors with the choice of your favorite fruits.
Calories: 210+ kcal per serving
Recommendation: Make it at home with fresh or frozen fruits!
Wrap Up
These 10 healthy snacks for diabetics can be enjoyed guilt-free, but always in moderation. Even the healthiest of snacks and foods can become unhealthy if consumed in large quantities. 
So, don't go crazy, and make sure to check ingredients and calories per serving before buying such snacks.