Best Vegan Ice Cream
There was a time when the frozen isles mostly just had dairy-based ice cream selection. But with the vegan revolution at its peak, the increasing options for vegan ice creams are balancing the scale. 
So what is the best vegan ice cream out there? Glad you asked!
Before ice cream brands ventured into the vegan market, you could only consume sorbets. However, now you'll find interesting flavors made solely with plant-based ingredients. And no, it's not just vegan ice cream with bananas (nice cream). 
Best Vegan Ice Cream Brands and Flavors 2021
Just because your choices for plant-based ice-creams have increased doesn't mean they all taste great. While some will take your taste buds right to heaven, others don't quite make the mark. 
So to make things easier here is the best vegan ice cream to add to your shopping list:
Oatly Strawberry
One of the common complaints from those who love strawberry ice cream and those who aren't exactly crazy fans is that it's too sweet. The Original Oatly Strawberry Ice Cream will change your opinion drastically.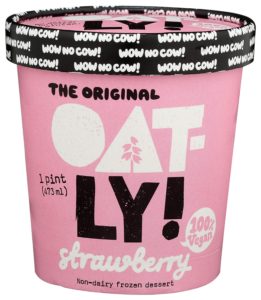 Their ice creams are made from an oat milk base, so it doesn't contain sugars found in dairy milk. That helps balance out the sweetness of the berries. It's also great for those vegans who actually prefer oat milk-based ice creams and other non-dairy products. 
Also, it's one of the creamiest ice creams out there, which also makes it pair well with pies or lava cakes. And if you're not a big fan of strawberries, Oatly also has some other kicking flavors like chocolate and mint chip. 
Coconut Bliss Legendary Cookie Dough and Infinite Coconut
Right off the bat, you'll notice the colorful packaging of the Coconut Bliss pint that draws you in when you're walking in the aisle. Now that's some smart branding right there!
But here, we're just looking for great flavors with healthy ingredients. So far, the Legendary Cookie Dough and Infinite Coconut stand out from the rest. 
Cookie dough ice creams are traditionally very creamy, which makes it challenging to get the same consistency with vegan milk. However, Coconut Bliss gets it just right. As for Infinite Coconut, well, it really is super coconut, as the base is coconut milk.
Ben & Jerry's Phish Food
Ben & Jerry's is a global phenomenon and for all the right reasons. The ice creams are super delicious, and the flavor variety is incredible. It distinguishes its vegan flavors as 'non-dairy frozen dessert.'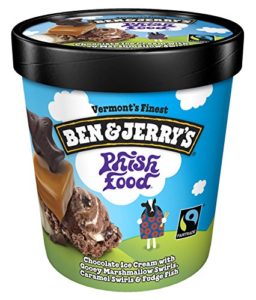 Their secret for making their non-dairy ice creams just as good as dairy ones is sunflower butter. Also, they've managed to make almost all the dairy flavors non-dairy as well. Plus, it's a lot more economical than some other vegan ice cream brands. 
Phish Food is essentially a chocolate ice cream fish-shaped fudge, marshmallow, and caramel swirls. How can you not love that?
N!ck's Peanut Butter Fudge
N!ck's should be called the Ikea of ice creams. The Swedish company doesn't shy away from saying they are Swedish. They call their ice creams 'Light Swedish Ice Cream,' which is what they're selling point too. They also write the flavor names in Swedish!
Their vegan line is relatively new, with five flavors, amongst which Peanut Butter (Peanöt Butter) is a clear winner. If you're looking for something low-calorie, this is a good option as one pint only contains 270 calories. 
They also have keto-friendly ice creams with a low carb count and no extra sugars. 
Planet Oat Blueberry Oat Crumble
Another great oat milk-based ice cream to fulfill your frozen cravings! What makes it special? No dominating oat flavor!
You truly get the actual flavor of the ice cream, in this case, Blueberry Oat Crumble. Yes, this one actually contains oatmeal crumbles, the flavor is very mild. The blueberry flavor really comes out with its sweetness. The chunks give it some textural depth as well, as it's not just creamy. 
Wildgood Mango (Plant-based, Not Vegan)
For summertime, there's nothing better than mango ice cream to beat the heat. The company uses olive oil and pea protein, among many other plant-based ingredients. They've labeled it as plant-based and not vegan because the ice cream is produced in a facility that also processes milk and egg.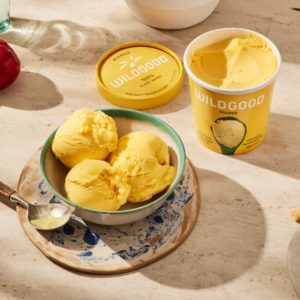 However, it deserves mention because the mango flavor is a real treat. It's not all sweet as most mango ice creams are but has some underlying savory aftertaste. 
Wildgood is a new entrant in the plant-based market and has roots in Greece. As a result, it's currently only available in stores on the East Coast. 
Baskin Robins Salted Fudge Bar
Vegan ice cream Baskin Robbins is getting even better. The company just launched a new vegan flavor Salted Fudge Bar. Made with oat milk, the new flavor will be a delight for all those who love some saltness in their dessert. 
It's made with salted dark chocolate with gooey fudge swirls. The latest vegan flavor will be available in all of Baskin Robbins 2,500 locations across the country. You can also get it in pint and quart jugs. 
So Delicious Chocolate Hazelnut Brownie
Chocolate vegan ice cream is a classic, but what is even better is the So Delicious Chocolate Hazelnut Brownie Oatmilk Frozen Dessert. This one contains oat milk as the base, but the brand also has coconut milk ice cream. 
This one is just a mouthful of different flavors and textures. The oat flavor just gets overpowered by the chocolate. So this one is for the die-hard chocolate fans!
It's no low-calorie per se, but not too high either, with 220 calories per serving, although you'll have a hard time sticking to a single serving. 
Wrap Up
At the end of the day, the best vegan ice cream is really the one you love flavor-wise. We eat ice cream for pure indulgence, so pick the flavor you love the most. All of the above vegan ice cream flavors are simply delicious, and the companies are trustable. 
Like all ice cream products, these are highly processed and calorie-dense as well. So keep a check on your intake and balance it with whole foods.