Are Oreos Vegan?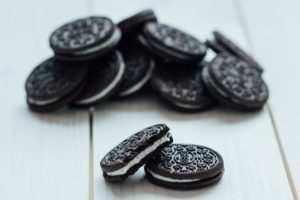 Veganism is a step farther than vegetarianism. Vegans attempt to avoid eating any animal products, and dairy, honey, and eggs are all examples of this. If you like the creamy Oreo cookies, then you're probably wondering 'are Oreos Vegan?' 
The classic Oreo sandwich cookie has long been a vegan favorite, and it is now available in a range of other dairy-free varieties. 
There is an Oreo for every mood, from more creme to seasonal favorites to the newest flavor trends. Despite the creamy middle filling, the cookie contains no milk.
Most Oreos are vegan as far as the ingredients are concerned, with the exception of a few variants that include animal components such as honey. 
However, according to the Oreo FAQ page, these cookies are not vegan-friendly. They are also not marked with the vegan shield, indicating that they have not been subjected to any kind of testing to ensure that they are vegan.
Oreos, on the other hand, is classified as an "accidentally vegan" snack by PETA, one of the most powerful animal rights organizations.
Who Invented Oreo Cookies?
Oreos are sandwich cookies made up of two circular chocolate biscuits with a vanilla cream filling in the middle. They were initially launched on the market in 1912 and have since become one of the most well-known cookie brands in the United States. 
Samuel J. Porcello, who was born on May 23, 1935, and died on May 12, 2012, worked for Nabisco for 34 years as a food scientist. He is well known for developing the contemporary Oreo cookie.
Furthermore, they are manufactured and distributed by Nabisco and are available in over 100 countries. Oreos changed its formula in the 1990s to eliminate pig fat from their cream-based filling replacing it with hydrogenated vegetable oil, then non-hydrogenated vegetable oil.
Moreover, they removed whey protein from their cookies in 2013, moving away from animal-derived components.
Can Vegans Eat Oreo Cookies?
Oreos are not vegan, according to the official Oreo website. This is because Oreos include milk as a cross-contact ingredient, making them inedible to vegans.
Cross-contact happens when a facility produces milk-based items that may come into touch with Oreos. There is a chance that the chocolate biscuits will include trace quantities of dairy if this happens.
Although there are no animal-derived items listed in the ingredients section of their renowned blue box, it is not vegan, according to the company itself.
According to the classic cookie label, the components in Oreos are suitable for anybody following a plant-based diet:
Wheat Flour, 

Sugar, Palm Oil, 

Cocoa Powder, 

Wheat Starch, 

Glucose-Fructose Syrup, 

Salt, 

Raising Agents, 

Emulsifiers (Soya, Sunflower), 

Flavoring (Vanillin)
What Are Oreos Ingredients?
Vegans can enjoy Oreo cookies because they do not include any animal-derived components. If you have a dairy allergy, be aware that Oreos include milk as a cross-contact ingredient.
Following are the ingredients stated on the Oreos package:
Wheat Flour

Sugar, Palm Oil

Cocoa Powder

Wheat Starch

Glucose-Fructose Syrup

Salt

Raising Agents

Emulsifiers (Soya, Sunflower)
However, there is another element that is troublesome for hardcore vegans, such as sugar. Animal bone char, sometimes known as animal derived natural charcoal, is used to treat certain sugar. It is a substance that is occasionally used to whiten sugar.
Are Oreos Dairy-Free?
Unbleached enriched flour, sugar, palm and/or canola oil, cocoa, high fructose corn syrup, leavening, maize starch, salt, soy lecithin, vanillin, and unsweetened chocolate are among the ingredients specified on the package. 
It appears to be a vegan-friendly product because it contains no milk, eggs, butter, or other dairy ingredients. However, it states that Oreos include milk as a cross-contact ingredient and are therefore not suited for vegans.
This indicates that milk traces may have found their way into the cookies or the equipment used to make them. So there is no assurance that anytime you eat an Oreo, you are not absorbing trace quantities of milk.
Are Oreos Whole Food Plant-Based?
Oreos are not whole food as they are processed cookies. Furthermore, veganism is a healthier alternative if it is based on whole foods. It avoids processed products and instead encourages you to fill your plate with nutritious plant-based meals.
On the other hand, the ingredients in Oreos include refined flour, processed sugar, corn syrup, and palm and canola oil, none of which are WFPB-friendly or healthy, for that matter. 
Is Oreo The Best Selling Cookie?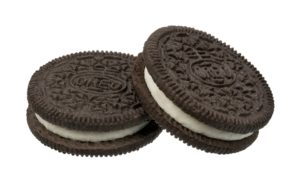 Oreo has also been America's favorite cookie for the last 108 years. Oreo is the most popular cookie brand in the United States, with sales exceeding $600 million in 2017. Only private label cookies outsell Oreo.
Oreo is the "World's Best Selling Cookie," according to Kraft Foods. In March 2012, Oreo cookies were distributed in over 100 countries, according to Time magazine.
Over 500 billion Oreo cookies have been created globally since the Oreo biscuit was first introduced in 1912.
The traditional Oreo appears to be the most popular variation based on consumer demand. The basic Oreo has 206 percent more demand than the other Oreo flavors combined. On the other hand, the Oreo Chocolate Creme was the most popular Oreo flavor on Amazon in 2019 and 2020, out of all other Oreo flavors.
It is no surprise that the famous cookie is a global favorite. Just look at the brand's limited-edition variants, each of which appears to be more popular than the previous.
However, it's simply the classic sandwich cookie. Although there are many varieties, the original flavor remains the favorite to this day. Furthermore, the degree to which they appear to surpass the competition is a remarkable achievement.
Final Verdict
Oreos are a kind of vegan gateway food, and many of us believe they are good to eat when we first go vegan. 
On the other hand, they may be important in persuading others that veganism does not imply a life of unending salads and dry bread.
Oreos are a popular and well-known cookie. Although they are not vegan-friendly entirely, the main ingredients are technically plant-based. If you trust PETA's classification of what is vegan and what is not, then it's safe for you to eat Oreos. Plus, there's no denying that they taste great.