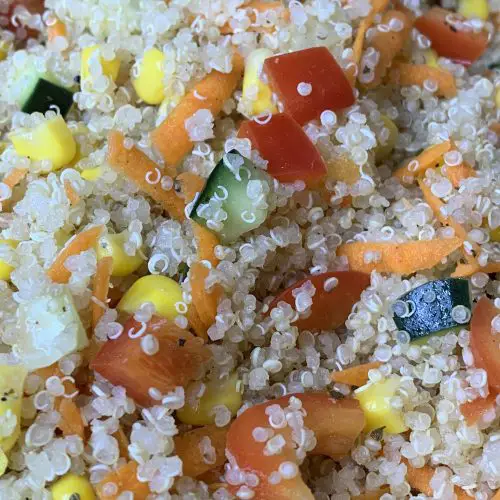 Best Summer Quinoa Salad with Kale
I love this fresh, quick, and easy salad! I'll make this at least once a week and it's gone in a day.
Equipment
can opener

measuring spoons

mixing bowl

spoon
Ingredients  
1

Red Bell Pepper

Diced

1

Cucumber

Diced

1

Carrot

Diced or shredded

1

can

Yellow Sweet Corn

Drained

2

Tbsp

Apple Cider Vinegar

1

Tbsp

Extra Virgin Olive Oil

1/4

tsp

Salt

1/4

tsp

Pepper

1

Pinch

Dried Oregano

1

Pinch

Basil

1/4

tsp

Powdered Onion
Instructions 
Add all ingredients to a mixing bowl and stir to combine
Hey guys, today I'm going to show you how to make my BEST SUMMER QUINOA SALAD WITH KALE. I always get about halfway done with a recipe before I realize that I really wanted to record it. 
Today, I did the same thing but I thought I'd get my gear out and start recording. So, we're going to start now.
I've taken one red bell pepper and one cucumber and I've diced those up. In addition to that, I've taken one carrot and this is a pretty large carrot,l and I've shredded it with a box grader. Add  that in there with the bell pepper and cukes. To that, I add a can of sweet yellow corn. 
Next, we build the marinade. What we're going to do is add two tablespoons of Apple cider vinegar. I'm pretty generous with it, because I like the Apple cider vinegar. 
What is EVOO?
Then, we add a tablespoon of good Extra Virgin olive oil. If you are going oil-free, like me, you can omit the oil. 
Alrighty. Next, we'll add a half teaspoon or so of salt and a lot of fresh ground pepper, I'd say ¼ teaspoon of pepper.
Then, I add my herbs and spices. I like to use powdered or granulated onion. And again, this is going to be about a quarter teaspoon of onion. I then use a large pinch of dried oregano. It's best to grind it between your fingers to make it more fragrant. I also like to use a large pinch of basil.
And that's about it. I make this at least once a week and this is the perfect way to get a ton of veggies into a meal. It stays fresh in the refrigerator for about a week, as well. 
I like to stir that in gently to let all the seasonings blend together. It is really best if you let it sit in the fridge overnight and let all those flavors kind of meld together. 
So this on its own makes a fantastic little salad topping. You can fill tortillas with this to make a refreshing veggie burrito.  You can sprinkle some cheese on top of that, if you like.
I'm eating whole food plant based, so I try to keep it all natural and all whole foods like this and avoid the dairy. So, normally I don't even use oil. I would just use the vinegar and I'd use the herbs and the granulated onion and let that all meld together. It's amazing. 
Then what I like to do is to start off with a bed of lettuce and then I'll put a scoop or two of quinoa on top of that. Then, I'll add a scoop of the veggies to crown it all. So, I'm going to go ahead and do that for you, today. 
Kale Yeah!
I take some fresh kale that's been chopped up.Let's start off with a big handful of that. You want to make it a big handful there so you get lots of greens into your diet, daily.
Then, I take my quinoa and just fluff that up a bit.  You'll notice that you can just kind of fluf that on right there, like so. Yeah. Big spoonful of quinoa, right there, like so.
Next, you can grab your veggies and get a few nice big spoonfuls of it, like so, right on top. Get a bunch on there.
It tastes amazing! It's absolutely delicious! 
With this dish, you've got your greens in the form of the kale here. You've got some whole grain goodness in the form of some beautiful quinoa. And then, you have cucumber, you have red bell pepper, you have shredded carrots and you have corn. Four veggies right there in the veggies portion, alone. Not to mention the kale. So that just makes for an amazing, amazing dish. 
So that's it. I call this my BEST SUMMER QUINOA SALAD WITH KALE, but quite frankly, you could put this on anything really. It's so versatile. Like I mentioned, you can make veggie burritos out of it. You can put that over some scrambled tofu in the morning. You can put that really on anything you'd like. So get creative with it. It's a great salad, and super easy to make.  
So, I hope you enjoy that. Guys, if you like that, smash the like button and hit the subscribe and we'll see you on the next one. God Bless, and Thank you.
You may also like:  HOW TO MAKE THE BEST VEGGIE SANDWICH >>CLICK HERE!